Book Clubs will be spellbound by
A Constellation of Vital Phenomena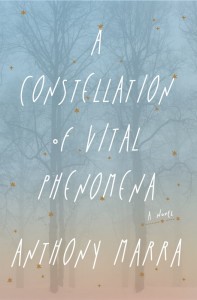 A Constellation of Vital Phenomena by Anthony Marra
In the final days of December 2004, in a small rural village in Chechnya, eight-year-old Havaa hides in the woods when her father is abducted by Russian forces. Fearing for her life, she flees with their neighbor Akhmed–a failed physician–to the bombed-out hospital, where Sonja, the one remaining doctor, treats a steady stream of wounded rebels and refugees and mourns her missing sister. Over the course of five dramatic days, Akhmed and Sonja reach back into their pasts to unravel the intricate mystery of coincidence, betrayal, and forgiveness that unexpectedly binds them and decides their fate.
With The English Patient's dramatic sweep and The Tiger's Wife's expert sense of place, Marra gives us a searing debut about the transcendent power of love in wartime, and how it can cause us to become greater than we ever thought possible.
"A Constellation of Vital Phenomena is simply spectacular. Not since Everything is Illuminated have I read a first novel so ambitious and fully realized. If this is where Anthony Marra begins his career, I can't imagine how far he will go."
-ANN PATCHETT, New York Times bestselling author of State of Wonder and Bel Canto
"Remarkable and breathtaking, Anthony Marra's A Constellation of Vital Phenomena is a spellbinding elegy for an overlooked land engulfed by an oft forgotten war. Set in the all-too-real Chechen conflict, Marra conjures fragile and heartfelt characters whose fates interrogate the very underpinnings of love and sacrifice."
-ADAM JOHNSON, New York Times bestselling author of The Orphan Master's Son
"Powerful, convincing, beautifully realized-it's hard to believe that A Constellation of Vital Phenomena is a first novel. Anthony Marra is a writer to watch and savor."
-T.C. BOYLE, New York Times bestselling author of When the Killing's Done and The Women
"[An] extraordinary first novel…Marra collapses time, sliding between 1996 and 2004 while also detailing events in a future yet to arrive, giving his searing novel an eerie, prophetic aura.  All of the characters are closely tied together in ways that Marra takes his time revealing, even as he beautifully renders the way we long to connect and the lengths we will go to endure." —Booklist (starred review) 
"A complex debut…[Marra writes] with elegant details about the physical and emotional destruction of occupation and war." –Publishers Weekly (starred review)
"Affecting and harrowing… A decade of war in Chechnya informs this multivalent, heartfelt debut, filled with broken families, lost limbs and valiant efforts to find scraps of hope and dignity." —Kirkus
______________________________________________________
Now in Paperback and Perfect for
Book Clubs: Beautiful Ruins, the
Phenomenal Bestseller from
Jess Walter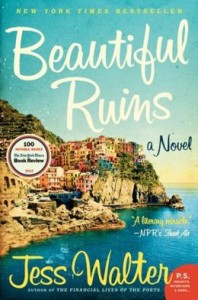 Beautiful Ruins by Jess Walter
From the moment it opens—on a rocky patch of Italian coastline, circa 1962, when a daydreaming young innkeeper looks out over the water and spies a mysterious woman approaching him on a boat—Jess Walter's Beautiful Ruins is a dazzling, yet deeply human, roller coaster of a novel. From the lavish set of Cleopatra to the shabby revelry of the Edinburgh Fringe Festival, to the back lots of contemporary Hollywood, Beautiful Ruins is gloriously inventive and constantly surprising—a story of flawed yet fascinating people navigating the rocky shores of their lives while clinging to their improbable dreams.
Make sure you browse the Reading Group Guide!
______________________________________________________
Book clubs will love the story of
friendship and second chances set
against a historical fiction
background in 
Orphan Train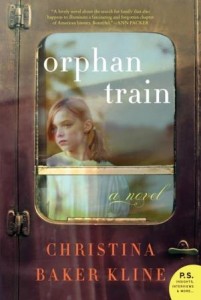 Orphan Train by Christina Baker Kline
Between 1854 and 1929, so-called orphan trains ran regularly from the cities of the East Coast to the farmlands of the Midwest, carrying thousands of abandoned children whose fates would be determined by pure luck. Would they be adopted by a kind and loving family, or would they face a childhood and adolescence of hard labor and servitude?
As a young Irish immigrant, Vivian Daly was one such child, sent by rail from New York City to an uncertain future a world away. Returning east later in life, Vivian leads a quiet, peaceful existence on the coast of Maine, the memories of her upbringing rendered a hazy blur. But in her attic, hidden in trunks, are vestiges of a turbulent past.
Seventeen-year-old Molly Ayer knows that a community-service position helping an elderly widow clean out her attic is the only thing keeping her out of juvenile hall. But as Molly helps Vivian sort through her keepsakes and possessions, she discovers that she and Vivian aren't as different as they appear. A Penobscot Indian who has spent her youth in and out of foster homes, Molly is also an outsider being raised by strangers, and she, too, has unanswered questions about the past.
Moving between contemporary Maine and Depression-era Minnesota, Orphan Train is a powerful tale of upheaval and resilience, second chances, and unexpected friendship.
Enhance your book club discussion with the Reading Guide!
______________________________________________________
An untraditional marriage and the coming of age of a young bride in the inner circle of the New York art world will keep book clubs talking long after they finish A Complicated Marriage: My Life with Clement Greenberg.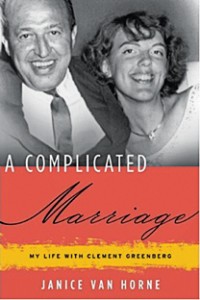 A Complicated Marriage: My Life with Clement Greenberg by Janice Van Horne
Love, marriage, the New York art world, and a wife's self-discovery.
A rare opportunity to experience the explosive and history-making New York art world of the 1950s thru the eyes of the young bride of Clement Greenberg, America's most influential art writer.  In 1955, after meeting Clem at a party, 21-year-old Janice—who knows nothing about art—is soon catapulted into the inner circle of her husband's world where she is surrounded by such larger-than-life personalities as Jackson Pollock, David Smith, Willem de Kooning, Franz Kline…. More a witness than a participant, in time Janice begins the slow struggle to regain her sense of self as she steps beyond the '50s traditions of wife and mother in search of worlds of her own. Her journey takes us inside the experimental theater of OOB and the Actors Studio in the '60s, into the Madison Avenue men's world of advertising, and the feminist movement of the '70s, to bi-coastal playwright in the '80s, to caregiver and widow in the '90s, and currently to book editor and writer.
Even as the country was changing during these heady decades, Janice was changing, and the marriage as well–from monogamy to a mutually compatible open marriage, and in the late '70s from a mutually compatible divorce to remarriage (to each other).  Beautifully written with humor and deeply felt honesty, A Complicated Marriage is an enduring love story that, as it draws back the curtain on the art scene and its iconic players, explores a woman's self-discovery and redefines the meaning of a "good marriage."
______________________________________________________
A perfect marriage… or is it?  Book clubs will be enthralled with this page turner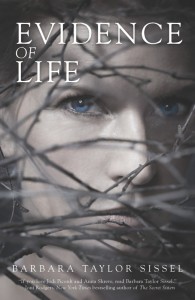 Evidence of Life by Barbara Taylor Sissel
On the last ordinary day of her life, Abby Bennett feels like the luckiest woman alive. But everyone knows that luck doesn't last forever…
As her husband, Nick, and daughter, Lindsey, embark on a weekend camping trip to the Texas Hill Country, Abby looks forward to having some quiet time to herself. She braids Lindsey's hair, reminds Nick to drive safely and kisses them both goodbye. For a brief moment, Abby thinks she has it all—a perfect marriage, a perfect life—until a devastating storm rips through the region, and her family vanishes without a trace.
When Nick and Lindsey are presumed dead, lost in the raging waters, Abby refuses to give up hope. Consumed by grief and clinging to her belief that her family is still alive, she sets out to find them. But as disturbing clues begin to surface, Abby realizes that the truth may be far more sinister than she imagined. Soon she finds herself caught in a current of lies that threaten to unhinge her and challenge everything she once believed about her marriage and family.
With a voice that resonates with stunning clarity, Barbara Taylor Sissel delivers a taut and chilling mystery about a mother's love, a wife's obsession and the invisible fractures that can shatter a family.
Barbara Taylor Sissel is available for a Skype chat with the winning book club!
______________________________________________________
Readers will be captivated by this heartbreaking memoir from a devastated father that has galvanized the medical profession to seek improvements in practice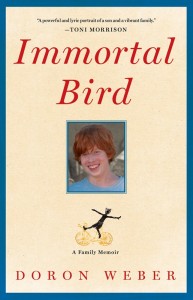 Damon Weber is a brilliant kid – a top student, skilled actor and a natural leader at school. Born with a congenital heart defect corrected by surgery when he was an infant, Damon lives a big life with spirit and independence that have always been a source of pride to his parents, Doron and Shealagh. But even as teenaged Damon continues to thrive socially and academically, his ever-vigilant parents start to pick up on worrisome signs: Damon's physical development has stagnated, his abdomen looks distended, and his energy flags.
In the unsettling weeks after 9/11, their worst fears are confirmed: Damon has developed a serious and poorly understood medical condition that may require a heart transplant for survival. His body is leaking protein, and drastic moves must be made—quickly. As Doron sets off on a race against time for a solution, poring over medical studies and consulting countless experts about every treatment available, Damon musters his strength and carries on with the life of a venturesome teenaged boy. He learns to sail and ski, takes the unique opportunity to go horseback riding with a world-champion bull rider, maintains his studies, and hangs out with his siblings and friends whenever he has the energy. And he continues to prove his talent on stage, directing a 23-person play and even making his national television debut on the popular HBO series "Deadwood."
Eventually it becomes clear, however, that Damon's condition has deteriorated so much that a transplant is his only hope. Doron and Shealagh – after interviewing myriad doctors and hospitals – make the momentous decision to place him on the donor waiting list, and the lion-hearted Damon prepares for battle.
"Red Sox come back to win four consecutive games make world series and baseball history….Which goes to show you boys and girls: it ain't over till it's over," Damon writes with trademark wit and verve on his blog in the months leading up to surgery.
Weaving Damon's written thoughts with his own candid and beautifully rendered recollections, Weber gives readers an intimate glimpse of a vibrant and loving family as they embark on a dramatic journey to save their remarkable son—and a rare window into the mind of a teenage boy as he grapples with a grim diagnosis.
At once a triumphant coming-of-age tale, a moving portrait of a burgeoning friendship between father and son, and a searing story about the perils of modern medicine,  IMMORTAL BIRD (Simon & Schuster Paperback; On Sale Date: February 5, 2013) stands as an unforgettable testament to a young boy's passion for life and the redemptive power of art in the face of the unthinkable.
Best of 2012: 50 Notable Works of Nonfiction by Washington Post
"Beautifully told and skillfully paced, surprisingly joyful at times, this memoir above all presents an extraordinary young life. In the brightness of this life, the realities of illness, pain and medical imperfection are secondary for the reader, and ultimately disappear. The radiance remains." —Washington Post
"With urgency and tenderness, Weber chronicles the efforts to save his eldest child, who was born with a congenital heart defect, and their struggles against the received wisdom and arrogance of the American medical establishment." —Ihsan Taylor, New York Times

"A powerful and lyric portrait of a son and a vibrant family." —Toni Morrison, author of Beloved 
____________________________________________________
Please fill out our super short registration form (<—click here) by April 30th for a chance to win a set of up to ten copies of A Constellation of Vital Phenomena by Anthony Marra, Beautiful Ruins by Jess Walter, Orphan Train by Christina Baker Kline, A Complicated Marriage by Janice Van Horne, Evidence of Life by Barbara Taylor Sissel, or Immortal Bird by Doron Weber for your book club! We will randomly choose a winner at the end of the month. This contest is open to clubs in the US and Canada only (our apologies to friends in other countries). 
Best of luck!
We 

LOVE

 Book Clubs!