Book Clubs will fall in love with
The Paradise Guest House

The Paradise Guest House by Ellen Sussman
A riveting and poignant novel of one woman's journey to Bali in search of love, renewal, and a place to call home—perfect for readers of Elizabeth Gilbert's Eat, Pray, Love and Alex Garland's The Beach.
It starts as a trip to paradise. Sent on assignment to Bali, Jamie, an American adventure guide, imagines spending weeks exploring the island's lush jungles and pristine white sand beaches. Yet three days after her arrival, she is caught in Bali's infamous nightclub bombings, which irreparably change her life and leave her with many unanswered questions.
One year later, haunted by memories, Jamie returns to Bali seeking a sense of closure. Most of all, she hopes to find Gabe, the man who saved her from the attacks. She hasn't been able to forget his kindness—or the spark between them as he helped her heal. Checking into a cozy guest house for her stay, Jamie meets the kindly owner, who is coping with a painful past of his own, and a young boy who improbably becomes crucial to her search. Jamie has never shied away from a challenge, but a second chance with Gabe presents her with the biggest dilemma of all: whether she's ready to open her heart.
Look for additional material at the end of the book, and join Random House Reader's Circle for author chats and more.
"Echoing Bali's difficult recovery from [the 2002 terrorist bombing], the characters tread the difficult terrain of post-traumatic attachment… A respectful and earnest…treatment of devastation's aftermath."—Kirkus
____________________________________________________________
The Comfort of Lies provides women to examine marriage, motherhood, infidelity & how this all balances with career through the eyes of three very different women. After reading the novel women wonder (and ask each other) if they are a Juliette, a Tia, or a Caroline.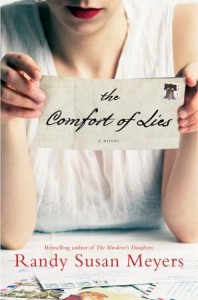 The Comfort of Lies by Randy Susan Meyer
A little girl's birthday triggers a collision course for three women—the woman who gave birth to her, the woman whose husband fathered her, and the woman who adopted her—forcing them to face the damages of infidelity and make decisions about marriage, motherhood, and their careers.
The Comfort of Lies, a novel about the collateral damage of infidelity, reveals the darkest and most private thoughts of three women.
Three Mothers. Two Fathers. One Child.
Five years ago, Tia fell into obsessive love with a man she could never have. Married, and the father of two boys, Nathan was unavailable in every way. When she became pregnant, he disappeared, and she gave up her baby for adoption. Now, she's trying to connect with her lost daughter and former lover.
Five years ago, Caroline, a dedicated pathologist, reluctantly adopted a baby to please her husband. She prayed her misgivings would disappear; instead, she's questioning whether she's cut out for the role of wife and mother.
Five years ago, Juliette considered her life ideal: she had a loving family, a solid marriage, and a thriving business. Then she discovered Nathan's affair. He'd promised he'd never stray again and she trusted him. But that was before she knew about the baby.
Now, when Juliette intercepts a letter containing photos meant for Nathan, her world crumbles again. How could Nathan deny his daughter? And if he's kept this a secret from her, what else is he hiding? Desperate for the truth, Juliette goes in search of the little girl. Her quest leads to Caroline and Tia and before long, the women are on a collision course with consequences that none of them could have predicted.
Books in the Burbs called The Comfort of Lies "The PERFECT book club book . . .  a very raw and emotionally charged book.  The author really did her homework and truly left no stone uncovered with the emotional, physical, and relational views from each character impacted by the consequence of an affair. It is easily the best book for me of 2012…although it won't be available until February 2013."
The winning book club will also receive Randy Susan Meyers' limited edition cookbook, The Comfort of Food. They will receive one print copy of the book and an electronic copy for all members.
____________________________________________________________
Book club readers will be on the edge of their seats with what reviewers are calling a "plot ripped from today's headlines" in David Kovach's "epitome of a suspense thriller, Five Days of Fear."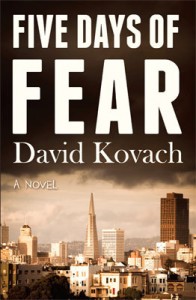 Five Days of Fear by David Kovach
During a family picnic, Jessica Britton's well-ordered world is slammed against a brutal reality and her faith is tested when her mom is kidnapped, her dad is shot, and authorities can find no clues to begin their investigation. Jessica's own anxiety and fear for her mother's life compel her to help FBI Agent Dan Hamilton look for motives and clues that would lead to rescuing her mom. By chance, clues begin to emerge, and the once floundering investigation speeds to a hectic race against time and criminal minds in a desperate attempt to save Jessica's mom and the lives of many in San Francisco's business district.
____________________________________________________________
Book clubs will enjoy the adventure, witty dialogue, and modern spins on ancient celtic myths in The Obsidian Dagger, an action-packed YA fantasy by Brad LaMar.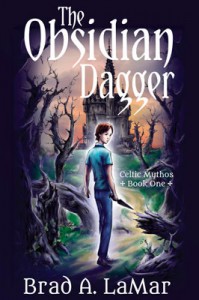 The Obsidian Dagger by Brad LaMar
When a mad witch with a magically crafted and frightfully powerful Obsidian Dagger threatens to obliterate humanity and overtake the magic clans of the Celtic Isles, destiny forces 17-year-old American, Brendan O'Neal, and his younger sister, Lizzie, to intervene. Joining the desperate princess of the Leprechauns, Dorian, and her two loyal companions, Rory and Biddy, they embark on a dangerous and wondrous adventure across Ireland and Scotland to thwart the witch and save mankind. Brendan will soon learn that the lines between reality, mythology, and divinity are more blurred than he ever imagined.
Little does Brendan know that stopping the witch is only the beginning…
____________________________________________________________
Please fill out our super short registration form (<—click here) by March 31st for a chance to win a set of up to ten copies of The Paradise Guest House by Ellen Sussman or The Comfort of Lies by Randy Susan Meyers or Five Days of Fear by David Kovach or The Obsidian Dagger by Brad LaMar for your book club! We will randomly choose a winner at the end of the month. This contest is open to clubs in the US and Canada only (our apologies to friends in other countries). 
Best of luck!
We 
LOVE

 Book Clubs!