We have SEVEN sensational titles in our
Book Club of the Month Contest!
__________________________________________________________
What to do about falling scores and failing schools?
Book Clubs will find inspiration in
Square Peg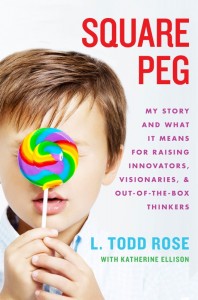 Square Peg: My Story and What it Means for Raising Innovators, Visionaries, & Out-of-the-Box Thinkers
by L. Todd Rose and Katherine Ellison
From high school dropout to Harvard— scientist, educator, and thought-leader Todd Rose's learning curve was complex. 
After being labeled "gifted but quirky" and belatedly diagnosed with ADHD, Todd Rose fought an uphill battle to reach his potential in our cookie-cutter educational system. In SQUARE PEG, he recounts his fall-and-rise journey with humor, humility, and wisdom, sharing memories about what it meant to be a child who thinks and learns differently.
SQUARE PEG is part memoir, part prescription, and part call to action. Rose, drawing on his own research as well as compelling findings in neuroscience, psychology, and education, demonstrates how our rigid "factory model" of education must be adapted to emphasize the individual learner and nurture the full range of talent in our classrooms.
Parents, teachers, and individuals will discover many opportunities for themselves and their children by embracing simple but effective techniques that are emerging from the new science of learning. Rose expertly advocates for a convergence of modern learning science with new digital technologies, explaining how (if we make the right choices) it has the power to transform education as we know it. He includes tips, sidebars, and ends each chapter with specific lessons and action points.
In these times of falling scores and failing schools, a reassuringly positive, fact-based, and deeply personal book like SQUARE PEG is perfectly timed to inspire, instruct, and change lives.
____________________________________________________________
Book clubs won't be able to stop talking about the
short stories in News from Heaven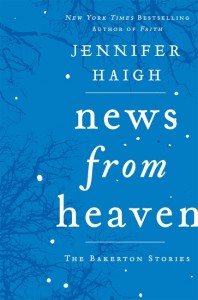 News from Heaven by Jennifer Haigh
The bestselling author of Faith and The Condition returns with a collection of unforgettable short stories inspired by a Pennsylvania coal-mining town and the people who call it home.
When her iconic novel Baker Towers was published in 2005, it was hailed as a modern classic—"compassionate and powerful . . . a song of praise for a too-little-praised part of America, for the working families whose toils and constancy have done so much to make the country great" (Chicago Tribune). Its young author, Jennifer Haigh, was "an expert natural storyteller with an acute sense of her characters' humanity" (New York Times).
Now, in this collection of interconnected short stories, Jennifer Haigh returns to the vividly imagined world of Bakerton, Pennsylvania, a coal-mining town rocked by decades of painful transition. From its heyday during two world wars through its slow decline, Bakerton is a town that refuses to give up gracefully, binding—sometimes cruelly—succeeding generations to the place that made them. A young woman glimpses a world both strange and familiar when she becomes a live-in maid for a Jewish family in New York City. A long-absent brother makes a sudden and tragic homecoming. A solitary middle-aged woman tastes unexpected love when a young man returns to town. With a revolving cast of characters—many familiar to fans of Baker Towers—these stories explore how our roots, the families and places in which we are raised, shape the people we eventually become.
News from Heaven looks unflinchingly at the conflicting human desires for escape and for connection, and explores the enduring hold of home.
Praise for News from Heaven
"Ms. Haigh is one of the most subtle, incisive fiction writers currently exploring the dynamics of big, secretive families, the kinds whose members are much more apt to betray private thoughts than speak them out loud…. an uplifting and radiant book." — The New York Times
"A vibrant, thought-provoking, profoundly readable contribution to the genre…Early reviewers have glowingly compared "News From Heaven'' to "Winesburg, Ohio,'' the progenitor of its genre. One can imagine that Anderson would have been proud to have pioneered a form and braved much criticism so that Haigh's connected stories could find the readers they richly deserve. — Boston Globe
People Magazine – 3.5 out of 4 Star Review
Book clubs will win up to 10 copies of both News from Heaven and Baker Towers.
Listen to Jennifer Haigh discuss News from Heaven with Book Club Girl on February 4, 2013 at 7pm ET. If you can't listen to the live discussion, be sure to listen to the archived podcast before or during your book club meeting!
____________________________________________________________
Book clubs will love the new perfume
in Scent of Darkness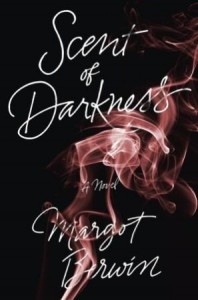 Scent of Darkness by Margot Berwin
In Margot Berwin's hotly anticipated second novel she takes us somewhere darker, deep into the bayous of Louisiana, to a world of fortune-tellers, soothsayers, and potent elixirs: a magical, seductive story about the power of scent–and what happens when a perfume renders a young woman irresistible.
Evangeline grows up understanding the extraordinary effects of fragrance. Her grandmother, Louise, is a gifted aromata, a master in the art of scent-making and perfume. When Eva was a girl, Louise carefully explained the way lavender under her pillow would make her dream of the man she would marry; eucalyptus would make her taller; almondine, fatter; and jasmine, she promised, would wrap her entire life in a mystery. When Eva is eighteen, Louise passes away and leaves her the ultimate gift—a scent created just for her. The small ruby vial of perfume with a stopper thin as a human hair is accompanied by a note in Louise's slanted script: "Do not remove the stopper, Evangeline, unless you want everything in your life to change."
From the moment Eva places a drop on her neck—the essence of fire, leather, red velvet rose and jasmine—men dance closer to her; women busy their faces deep into her hair; even the cats outside her bedroom cry to be near her. After a lifetime spent blending into the background, Eva is suddenly the object of intense desire for everyone around her. Strangers follow her down the street, a young boy appears at her door asking for a favor, and two men, one kind and good, the other evil and seductive, fall deeply, madly in love with her.
A bewitching tale of love, blood, power, and magic, Scent of Darkness is a wildly inventive novel that will seduce the reader's every sense.
____________________________________________________________
There's much for book clubs to discuss in Charles Todd's
atmospheric mystery, set in WWI England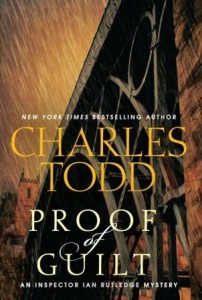 Proof of Guilt by Charles Todd
Scotland Yard's Ian Rutledge must contend with two dangerous enemies in this latest complex mystery in the New York Times bestselling series
London, summer 1920. An unidentified body appears to have been run down by a motorcar and Ian Rutledge is leading the investigation to uncover what happened. While the signs point to murder, vital questions remain: Who is the victim? And where, exactly, was he killed?
One small clue leads Rutledge to a firm built by two families, famous for producing and selling the world's best Madeira wine. Lewis French, the current head of the English enterprise, is missing. But is he the dead man? And does either his fiancée or his jilted former lover have anything to do with his disappearance—or possible death? What about his sister? Or the London office clerk? Is Matthew Traynor, French's cousin and partner who heads the Madeira office, somehow involved?
The experienced Rutledge knows that suspicion and circumstantial evidence are not proof of guilt, and he's going to keep digging for answers. But that perseverance will pit him against his supervisor, the new acting chief superintendent. When Rutledge discovers a link to an incident in the French family's past, the superintendent dismisses it, claiming the information isn't vital. He's determined to place the blame on one of French's women despite Rutledge's objections. Alone in a no-man's-land rife with mystery and danger, Rutledge must tread very carefully, for someone has decided that he, too, must die so that cruel justice can take its course.
____________________________________________________________
Book clubs will get wrapped up in the drama
in The Promise of Stardust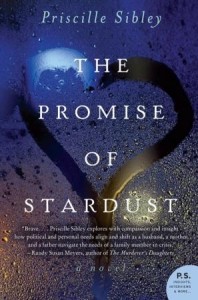 The Promise of Stardust by Priscille Sibley
Matt Beaulieu was two years old the first time he held Elle McClure in his arms, seventeen when he first kissed her under a sky filled with shooting stars, and thirty-three when they wed. Now in their late thirties, the deeply devoted couple has everything—except the baby they've always wanted.
When a tragic accident leaves Elle brain-dead, Matt is devastated. Though he cannot bear losing her, he knows his wife, a thoughtful and adventurous scientist, feared only one thing—a slow death. Just before Matt agrees to remove Elle from life support, the doctors discover that she is pregnant. Now what was once a clear-cut decision becomes an impossible choice. Matt knows how much this child would have meant to Elle. While there is no certainty her body can sustain the pregnancy, he is sure Elle would want the baby to have a chance. Linney, Matt's mother, believes her son is blind with denial. She loves Elle, too, and insists that Elle would never want to be kept alive by artificial means, no matter what the situation.
Divided by the love they share, driven by principle, Matt and Linney fight for what each believes is right, and the result is a disagreement that escalates into a controversial legal battle, ultimately going beyond one family and one single life.
Told with sensitivity and compassion, The Promise of Stardust is an emotionally resonant and thought-provoking tale that raises profound questions about life and death, faith and medicine—and illuminates, with beauty and grace, the power of love to wound . . . and to heal.
____________________________________________________________
Book clubs will be raving about Indiscretion – a story of love, lust, and deception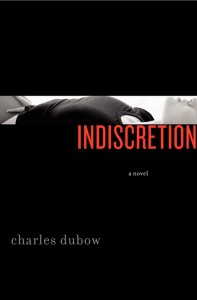 Indiscretion by Charles Dubow
"Every story has a narrator. Someone who writes it down after it's all over. Why am I the narrator of this story? I am because it is the story of my life—and of the people I love most. . . ."
Harry and Madeleine Winslow have been blessed with talent, money, and charm. Harry is a National Book Award–winning author on the cusp of greatness. Madeleine is a woman of sublime beauty and grace whose elemental goodness and serenity belie a privileged upbringing. Bonded by deep devotion, they share a love that is both envied and admired. The Winslows play host to a coterie of close friends and acolytes eager to bask in their golden radiance, whether they are in their bucolic East Hampton cottage, abroad in Rome thanks to Harry's writing grant, or in their comfortable Manhattan brownstone.
One weekend at the start of the summer season, Harry and Maddy, who are in their early forties, meet Claire and cannot help but be enchanted by her winsome youth, quiet intelligence, and disarming naivete. Drawn by the Winslows' inscrutable magnetism, Claire eagerly falls into their welcoming orbit. But over the course of the summer, her reverence transforms into a dangerous desire. By Labor Day, it is no longer enough to remain one of their hangers-on.
A story of love, lust, deception, and betrayal as seen through the omniscient eyes of Maddy's childhood friend Walter, a narrator akin to Nick Carraway in The Great Gatsby, Indiscretion is a juicy, richly textured novel filled with fascinating, true-to-life characters—an irresistibly sensual page-turner that explores having it all and the consequences of wanting more.
Indiscretion also marks the debut of a remarkably gifted writer and storyteller whose unique voice bears all the hallmarks of an exciting new literary talent.
Learn More about Indiscretion here. You can also read an excerpt or watch the book trailer.
You'll enjoy following Charles Dubow on Twitter.
Make sure you browse the Reading Group Guide!
____________________________________________________________
Book Clubs will discuss the casualties of war and of the heart in this historical romance
The Ambassador's Daughter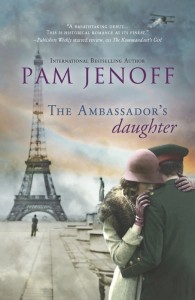 The Ambassador's Daughter by Pam Jenoff
Paris, 1919. The world's leaders have gathered to rebuild from the ashes of the Great War. But for one woman, the City of Light harbors dark secrets and dangerous liaisons, for which many could pay dearly.
Brought to the peace conference by her father, a German diplomat, Margot Rosenthal initially resents being trapped in the congested French capital, where she is still looked upon as the enemy. But as she contemplates returning to Berlin and a life with Stefan, the wounded fiancé she hardly knows anymore, she decides that being in Paris is not so bad after all.
Bored and torn between duty and the desire to be free, Margot strikes up unlikely alliances: with Krysia, an accomplished musician with radical acquaintances and a secret to protect; and with Georg, the handsome, damaged naval officer who gives Margot a job—and also a reason to question everything she thought she knew about where her true loyalties should lie.
Against the backdrop of one of the most significant events of the century, a delicate web of lies obscures the line between the casualties of war and of the heart, making trust a luxury that no one can afford.
The book club that wins The Ambassador's Daughter will also win a Skype chat with the author, Pam Jenoff!  GOOD LUCK!
_________________________________________________________________
Please fill out our super short registration form (<—click here) by February 28th for a chance to win a set of up to ten copies of Square Peg by L. Todd Rose and Katherine Ellison, News from Heaven by Jennifer Haigh (with the bonus Baker Towers!),  Scent of Darkness by Margot Berwin, Proof of Guilt by Charles Todd, The Promise of Stardust by Priscille Sibley, Indiscretion by Charles Dubow, or The Ambassador's Daughter by Pam Jenoff for your book club! We will randomly choose a winner for each title at the end of the month. This contest is open to clubs in the US and Canada only (our apologies to friends in other countries). 
Best of luck!
We 
LOVE

 Book Clubs!