Book Clubs will be thrilled by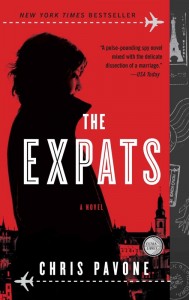 The Expats by Chris Pavone
At first glance, Kate Moore is an ordinary American expat mom whose days are filled with coffee mornings and the mundane demands of childcare. But Kate is also guarding a secret: until recently she'd been leading a double life as a CIA agent, traveling the globe on increasingly dangerous covert missions. After her job drives her to commit an unforgivable act, Kate is ready for a less eventful life, and her husband Dexter's new job as a financial systems security consultant in Luxembourg provides the perfect exit strategy. But still she remains unable to bring herself to reveal her secret to him.
As Kate struggles to adapt to her new expat existence, always wondering when her past will catch up with her, her spook instincts take over and she grows suspicious of those around her. There's an overly friendly American couple, Bill and Julia, who clearly are not who they say they are, and who Kate suspects may be assassins; and Dexter has become withdrawn, evasive, and unhealthily absorbed in his work, which mysteriously leads him to come home with mud-stained shoes. When Kate breaks her vow to never investigate her own husband and begins to dig for the truth, her world quickly unravels as she discovers that Dexter has been harboring an explosive secret of his own—and that he may be involved in a dangerous scheme involving shell corporations, unforgiven war crimes, and the brazen theft of 50 million euros.
Transporting readers from the cobblestoned streets of Luxembourg to the snow-capped peaks of the Alps to an unforgettably climactic scene in Paris, THE EXPATS is an international thriller in the tradition of established masters such as John Le Carré, Ken Follett, and Frederick Forsyth. At the same time, it is a skillfully drawn, character-driven exploration of marital deception that breaks the bounds of the espionage genre and will appeal broadly to fans of psychological suspense.
"Sly…Pavone strengthens this book with a string of head-spinning revelations in its last pages…The tireless scheming of all four principals truly exceeds all sane expectations."—New York Times 
"Smartly executed…Pavone is full of sharp insights into the parallels between political espionage and marital duplicity…Thoroughly captivating." —New York Times Book Review 
"Bombshell-a-minute…Pavone creates a fascinating, complicated hero." –Entertainment Weekly 
"Amazing…Impossible to put down…Pavone invokes memories of the great writers of spy fiction of the past, and he has the chops to be mentioned with the best of them."—Associated Press
"I often thought I was again reading the early works of Ken Follett, Frederick Forsyth, and Robert Ludlum. Smart, clever suspense, skillfully plotted." —John Grisham
"Bristling with suspense and elegantly crafted, The Expats introduces a compelling and powerful female protagonist you won't soon forget. Well done!" —Patricia Cornwell
____________________________________________________________
What makes women fall for men
who are tied to political causes?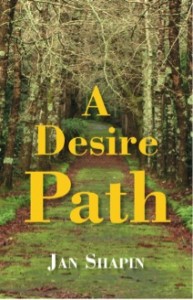 A Desire Path by Jan Shapin
Set in the Depression and WW II's aftermath, A Desire Path links a love affair between a married woman and a union organizer with the crisis a famous female journalist faces trying to decide whether to join the Communist Party. Two stories of conflicted loyalties, each a journey along a desire path.
Ilse is drawn to Andy because of his involvement in labor causes, even as Andy himself is struggling with a loss of belief.  Anna Mae, Andy's old friend, tries to balance her responsibility to a senile father with a growing sense her left wing politics have trapped her. After a disastrous encounter with Ilse's husband, Andy retreats to the mountains. Anna Mae flails about — from Seattle to Moscow, Los Angeles to China — while Ilse gradually discovers her own inner compass.
"Politics is power, and power always attracts. "A Desire Path" is a novel of romance and politics set amongst the aftermath of World War II, with the frost of the cold war coalescing. An affair between a union leader and a lawyer wife leads to cruel intentions, as well as a woman driven (to) defect to the Soviet Union. A riveting novel with much romance and intrigue, "A Desire Path" is well worth considering, not to be missed." — Midwest Book Review
We will be drawing a second and third place winner for this book! Second place will win 5 books for their book club and third place will win 3 books for their book club.
____________________________________________________________
Please fill out our super-short registration form (<—click here) by January 31st for a chance to win a set of up to ten copies of The Expats by Chris Pavone or A Desire Path by Jan Shapin for your book club! We will randomly choose a winner at the end of the month. This contest is open to clubs in the US and Canada only (our apologies to friends in other countries). 
Best of luck!
We 
LOVE

 Book Clubs!