Book Clubs will be inspired by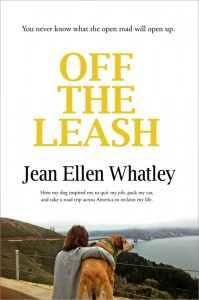 Off the Leash by Jean Ellen Whatley
IT'S ABOUT FREEDOM.
It's about not asking permission.
Risking everything.
Heeding messages from the universe to change your life.
It's is a  triumph tale about a woman who grabs her dog, jumps in the car, and goes for a little spin across America to revive her life.
In July 2011, after surviving  a "Decade of Disaster," writer, journalist, and former political press secretary Jean Ellen Whatley quit her job, packed her car, and took to the road for an eight-week, near 9,000 mile cross-country odyssey to reclaim her life. Her inspiration? Her dog, Libby, who accompanied her every step—and mile—along the way. Off the Leash  is an evocative, often comical, but always inspirational read for anyone who has ever had to deal with the loss of a loved one, financial hardship, family secrets, or the bitterness of betrayal. Backed by Kickstarter and cheered on by the thousands who read her blog posts from the road, Whatley chronicled her adventures as she reconnected with the people and places she held most dear. Off the Leash is raw, funny and fresh, and told with rare honesty. Whatley's voice is an American original, yet she echoes some of the most commonly shared fears and deeply held hopes. Off the Leash recently made it on to the St. Louis region's best sellers list and is rapidly becoming a favorite for book clubs.
For more information on Jean Ellen Whatley and Off the Leash, visit the author's website, jeanellenwhatley.com, or her publisher's website HERE.
____________________________________________________________
Please fill out our super-short registration form (<—click here) by December 31st for a chance to win a set of up to ten copies of Off the Leash by Jean Ellen Whatley for your book club! We will randomly choose winners at the end of the month. This contest is open to clubs in the US and Canada only (our apologies to friends in other countries). 
Best of luck!
We 
LOVE

 Book Clubs!