Book Clubs will find much to discuss in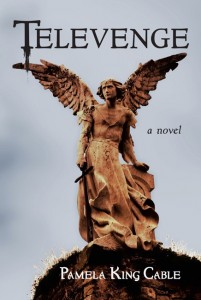 Televenge by Pamela King Cable
Paperback: 584 pages
Publisher: Satya House Publications (October 5, 2012)
Televenge is " … an emotional rollercoaster that ends as intensely as it begins . . .those who commit to Cable's tome will find themselves captivated and deeply devoted to Andie. Fans of Fannie Flagg and Janet Evanovich will be hooked on this saga of religion, romance, and crime."–Library Journal Editor's Pick BookExpo America 2012, Shannon Marie Robinson, Library Journal
Andie Oliver is a faithful woman—to God, to husband Joe, and to elevangelist Reverend Calvin Artury, a Godfather in a Mafia of holy men.
Raised to be subservient and submissive in the tradition of the Bible-belt South of the 70's, she becomes a prisoner of that tradition. As a reluctant member of Artury's evangelical megachurch, the House of Praise in Winston-Salem, North Carolina, Andie's dream of children, home, and marriage falls apart when Joe is hired on the ministry team.
The charismatic Reverend conducts faith-healing crusades, creating the largest religious TV audience in the world, surpassing the income and followers of Oral Roberts and the Reverend Billy Graham combined. Working limitless hours, Joe is sucked deeper into the ministry while Andie attempts to free him from the Reverend's control and far-reaching influence.
But it is Mavis Dumass, Andie's best friend since birth, a sassy African-American woman and aspiring recording star, who holds the secrets to Reverend Artury's carefully veiled debauchery. What happens to Mavis will not be forgotten as it leaves Andie near mental collapse and struggling for freedom from the cult's grip.
Andie is still unaware of the extreme danger their pastor wields until she witnesses the murder of a church member. Fearing for her life, Andie plummets from a dreadful existence to a horrific one as she uncovers Reverend Artury's long-hidden truths, and loses everything. But she strikes back, threatening to expose the Reverend to the world.
Reverend Artury reverts to the twisted "cleansings" of his childhood. Raised by two  psychopathic aunts, he mentally declines and quickly, Andie must go into hiding. Fighting for redemption for her family and herself, Andie confronts the very definition of sin, and shakes the Christian evangelical world to its core. Evading ruthless adversaries who will go to any lengths to protect Reverend Artury, Andie battles the dark side of televangelism, forever changing a nation of evangelicals.
With more twists and turns than the Blue Ridge Parkway, Televenge exposes chaos in the megachurch, and embraces those who discover unconditional love in a world of religious deception. A story of hope, of deliverance, and strength of the human spirit. An unforgettable tale of unconditional love, heartbreaking loss, an invincible spirit, and incredible courage.
"A captivating, beautifully rendered, unforgettable look at a world so few of us understand. Ms. Cable has courageously opened the door…and my eyes."–Lesley Kagen, NEW YORK TIMES Bestselling Author of Good Graces
"Pamela King Cable's debut novel breathes good and evil, frost and fire. You can finish it, but it won't let you go."–Jacquelyn Mitchard, NEW YORK TIMES Bestselling Author of The Deep End of the Ocean
Find out more about Televenge on the author's website or the book's Facebook page.
________________________________________________________________
Please fill out our super short registration form (<—click here) by October 31st for a chance to win a set of up to ten copies of Televenge by Pamela King Cable for your book club! We will randomly choose a winner at the end of the month. This contest is open to clubs in the US and Canada only (our apologies to friends in other countries).
Best of luck!
We 
LOVE

 Book Clubs!