We have THREE amazing books in our
August Book Club of the Month Contest!
___________________________________________________________________
Family, tragedy, and the meaning of home… book clubs will find much to discuss in
 The Forgetting Tree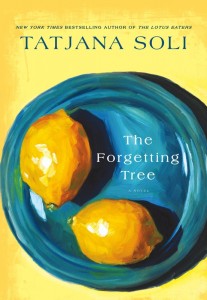 The Forgetting Tree by Tatjana Soli
From The New York Times bestselling author of The Lotus Eaters, a novel of a California ranching family, its complicated matriarch and an enigmatic caretaker who may destroy them.
When Claire Nagy marries Forster Baumsarg, the only son of prominent California citrus ranchers, she knows she's consenting to a life of hard work, long days, and worry-fraught nights. But her love for Forster is so strong, she turns away from her literary education and embraces the life of the ranch, succumbing to its intoxicating rhythms and bounty until her love of the land becomes a part of her. Not even the tragic, senseless death of her son Joshua at kidnappers' hands, her alienation from her two daughters, or the dissolution of her once-devoted marriage can pull her from the ranch she's devoted her life to preserving.
But despite having survived the most terrible of tragedies, Claire is about to face her greatest struggle: An illness that threatens not only to rip her from her land but take her very life. And she's chosen a caregiver, the enigmatic Caribbean-born Minna, who may just be the darkest force of all.
Haunting, tough, triumphant, and profound, The Forgetting Tree explores the intimate ties we have to one another, the deepest fears we keep to ourselves, and the calling of the land that ties every one of us together.
"This novel has it all–mystery, psychological insight, emotional truth, and–most important–characters whose lives matter. You'll fall in love with these families. Soli writes with such passion it is inescapable, lyrical, and profoundly moving. The Forgetting Tree goes on my top ten list." -Jonis Agee, author of The River Wife
"Tatjana Soli's elegant and sensuous prose will keep you spellbound.  THE FORGETTING TREE is an earthy book, full of beautiful surprises." -Maria Semple, author of Where'd You Go, Bernadette
"Like her protagonist Claire who literally tastes the earth to predict the season's crops, Tatjana Soli delves deep into the soil of two magnetic and powerful female psyches to produce a novel that is lush, evocative, and hypnotic. An incredible book, richly imagined and beautifully written." -Nancy Zafris, series editor, The Flannery O'Connor award for short fiction
_____________________________________________________________________
Love and loyalty… book clubs will be transported to the Bronx, circa 1960, in
The Bookie's Son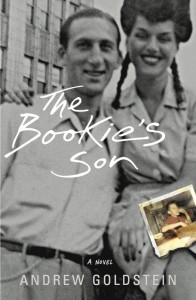 The Bookie's Son by Andrew Goldstein
In 1960, as a way to pay off some of his debt, the bookie, Harry Davis, starts collecting loan payments for the Bronx gangster, Nathan Glucksman.  Making his rounds, Harry visits a sweet tailor named Morris, who is a survivor of the Holocaust.  Whether out of pity, or because Harry was one of the liberators of the camps during World War II, or because he is prone to rash decisions, instead of collecting from Morris he gives him some of Nathan's money so that he can move to Israel.  Nathan's henchmen, the Spratz brothers, come looking for Harry, who is forced to escape and leave his bookie business in the hands of his twelve-year-old son, Ricky, and his almost deaf and nearly blind mother-in-law, Rosie.
The Spratz brothers ransack the apartment and threaten not only to harm to Harry, but also Ricky's mother, Pearl.  Ricky, who is his mother's confidant and emotional crutch, takes it on himself to raise the money and rescue his family.  He dreams of being the hero.  Like the rest of the Davis family—the best family in the Bronx—he believes he is an extraordinary person trapped in an ordinary life.
He embarks on a series of failed attempts to obtain money, which he needs to bet on a fixed horse race.  He ends up stealing cash from his father's drawer—money that his father was saving to make a payment to Nathan—and then rides in a stolen car to Aqueduct to place his bet.
Meanwhile, other members of the family, in their own shady ways, are trying to acquire cash so they can appease Nathan.  Harry is working on smuggling tax free cigarettes from North Carolina and Pearl is planning to embezzle money from Elizabeth Taylor, a client of her boss.
Each member of the family is broken and needs fixing.  Though they are all unscrupulous, they are filled with love and loyalty. Fast paced, engrossing and full of heart, The Bookie's Son paints a picture of a family forced to decide just how much they're willing to sacrifice for each other––and at what cost.
"Powerful Debut" –Publishers Weekly    "A good summer read."–Library Journal    
"Whip-smart, atmospheric and funny, Andrew Goldstein's The Bookie's Son will transport and endear you with its tale of a young hustler on the move to save his family." -Jenna Blum, author of The New York Times & international bestsellers Those Who Save Us and The Storm Chasers  
"In this rollicking debut, Andrew Goldstein captures the Bronx in 1960 with vivid detail and larger than life characters…a menacing and a hilarious read." -Ladette Randolph, author of A Sandhills Ballad and the editor-in-chief of Ploughshares  
"Wow.  This is a great novel.  Brilliantly written, it reminds me of a combination of Angela's Ashes and David Sedaris.  Deeply insightful as well as very funny."-Sophie Powell, author of The Mushroom Man   
____________________________________________________________________
A captivating story set in an exotic location… book clubs will enjoy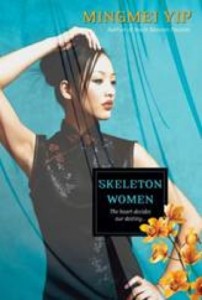 Skeleton Women by Mingmei Yip
Skeleton Women is a Chinese phrase for femmes fatales. This story is about three of them  — Camilla, a nightclub singer who has been forced to become a spy, Shadow a magician who jumps naked off a tall building, and a gender-ambiguous gossip columnist. All must scheme in order to survive the gang wars in lawless 1930ies Shanghai.
Camilla is a young orphan when she is adopted by a master crime lord and turned into the singing sensation of Shanghai. She lives in luxury but knows none of the wealth is really hers. She is one of the skeleton women, who lure men to their ruin and death. In her case, it's literal, since she is also trained in knife-throwing and contortion.
Her assignment: attract the attention of another crime lord and help see he is assassinated. But can she stay in his good graces with competition from Shadow, a famed magician, and Rainbow Chang, the ambiguously sexed gossip columnist? And will she be able to resist falling for either the gang lord's son or his hunky bodyguard?
A guilty pleasure….enjoy the exotic location and characters…. This is a large, luscious box of chocolates. Go on. You know you want to." RTBook 4 star review 
Poignant and often heartbreaking story…captivating…mix of worldly and ethereal, mystery and drama… kept me interested and kept me reading with her journal cum memoir style that few authors pull off…I loved how she incorporated in her narrative Chinese customs, legends, myths and beliefs and especially how she quoted from long ago texts on war and strategies…it was her characters that dominated the pages. –Barnes and Noble Bookclub 
Entertaining…diversion is (a strength of this book) — Publisher's Weekly:
---
Please fill out our super short registration form (<—click here) by August 31st for a chance to win a set of up to ten copies of The Forgetting Tree, up to ten copies of The Bookie's Son, or up to ten copies of Skeleton Women for your book club! We will randomly choose winners at the end of the month. This contest is open to clubs in the US and Canada only (our apologies to friends in other countries)
Best of luck!
We 
LOVE

 Book Clubs!