We are excited to offer TWO terrific titles in our Book Club of the Month Contest for March!
_________________________________________________________________
What is holding you back from living a more joyful life?
Book Club members will find much to discuss in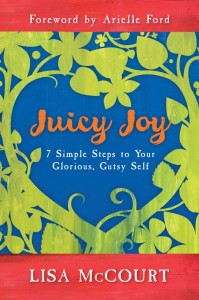 Juicy Joy: 7 Simple Steps to Your Glorious, Gutsy Self  by Lisa McCourt
Juicy Joy is the story of one woman's transformational journey from a life that looked picture-perfect—but often left her feeling empty, exhausted, and emotionally depleted—to a life of true, blissful authenticity and self-love. But Lisa McCourt does more than just share her path to Juicy Joy—she gives you a roadmap for your own. Are you living your richest, gutsiest, juiciest life? Do you feel joy and rapture with all the exquisite bliss and sweetness you can imagine? If you aren't experiencing the abundance and personal freedom you crave; if you're not vitally and deeply connected with your loved ones, or able to attract and maintain a soul-nurturing, awe-inspiring, passionate primary relationship, it can only mean one thing. You are not expressing the full truth of who you are. Don't worry; it's rampant. Most of us are so far removed from our core truth we can barely hear its faint whispers.
It's time to change that. Living juicy-joyfully is not a matter of adding anything to ourselves. It's simply a matter of shedding the limitations that separate us from our true core beings—the limitations that trap us in the numbness and detachment that have become distressingly "normal" in our culture. Wouldn't it feel amazing to trust your instincts and fearlessly act on them? Isn't it time to gain mastery over your experience of life and learn to honor the voice within you that always, unfailingly leads you to your greatest joy and highest truth? Juicy Joy is an invitation to a bigger life—a deeper, richer, more rewarding existence. It's an invitation to passion, to purpose, and to heady self-love. Developing a compass for Juicy Joy and learning how to follow it guarantees a life that is vibrant, real, and powerfully satisfying . . . and launches you into an enduring love affair with your glorious, genuine self.
______________________________________________________________________
Second chances in life and in love
Book Clubs will find much to talk about in
Walter's Muse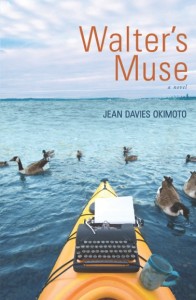 Walter's Muse by Jean Davies Okimoto
It's the first summer of her retirement and librarian Maggie Lewis is relishing the unfolding of sweet summer days on Vashon Island: walking on the beach, reading the classics, and kayaking. But in June when a sudden storm hits the island, Maggie's summer becomes about as peaceful as navigating whitewater. Not only does her wealthy sister arrive uninvited with a startling announcement; but Maggie finds herself entangled with her new Baker's Beach neighbor, Walter Hathaway. A famous children's author and recovering alcoholic, Walter has a history with Maggie they would each like to forget. Delightfully told with humor and insight, Walter's Muse is a page turner for romantics, writers, and the young at heart at any age.
"An exhilarating portrait of a woman in her prime…revives in all of us a lust for life, with its splendid twists and turns, gifts of love and friendship, and promises of more surprises to come." –Nina Sankovitch, Huffington Post, author of Tolstoy and the Purple Chair
"For those who believe in second chances in love and life, Walter's Muse provides a warm and engaging blueprint.  Okimoto's loveably quirky characters become a reader's friends and family.  I hated to finish the last page."–Connie Burns, School LIbrary Journal, reviewer
"Brimming with wit and wisdom…a delightful celebration of mature love, sure to enchant fans of Major Pettigrew's Last Stand!"–Juli Morser, Books by the Way
_______________________________________________________________________
Please fill out our super short registration form (<—click here) by March 31st for a chance to win a set of up to ten copies of Juicy Joy or up to ten copies of Walter's Muse for your book club!  We will randomly choose a winner at the end of the month.  This contest is open to clubs in the US and Canada only (our apologies to friends in other countries).
Best of luck!
We 
LOVE

 Book Clubs!