About Girls Like Us
• Paperback: 288 pages
• Publisher: Harper Perennial (February 28, 2012)
During her teens, Rachel Lloyd ended up a victim of commercial sexual exploitation. With time, through incredible resilience, and with the help of a local church community, she finally broke free of her pimp and her past and devoted herself to helping other young girls escape "the life."
In Girls Like Us, Lloyd reveals the dark world of commercial sex trafficking in cinematic detail and tells the story of her groundbreaking nonprofit organization: GEMS, Girls Educational and Mentoring Services. With great humanity, she shares the stories of the girls whose lives GEMS has helped—small victories that have healed her wounds and made her whole. Revelatory, authentic, and brave, Girls Like Us is an unforgettable memoir.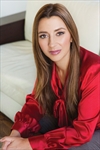 About Rachel Lloyd
Rachel Lloyd is the founder and executive director of GEMS, Girls Educational and Mentoring Services. The recipient of numerous fellowships and honors, including the prestigious Reebok Human Rights Award, Lloyd was a leading advocate for the Safe Harbor for Exploited Youth Act, which made New York the first state to protect, not prosecute, sexually exploited children. She lives in New York City.
Visit the GEMS website.
Rachel's Tour Stops
Tuesday, February 28th: Take Me Away
Wednesday, February 29th: The House of the Seven Tails
Thursday, March 1st: Jenny Loves to Read
Monday, March 5th: The Feminist Texican
Tuesday, March 6th: Book Hooked Blog
Wednesday, March 7th: Sidewalk Shoes
Monday, March 12th: Elle Lit
Tuesday, March 13th: Jenn's Bookshelves
Wednesday, March 21st: Buried in Print
Thursday, March 22nd: Broken Teepee
Friday, March 23rd: Good Girl Gone Redneck