Book Clubs!  We have two terrific new books in our December Book Club of the Month Contest!
________________________________________________________________________
Mothers & sons, honesty, acceptance
Book Clubs will be touched by
Conversations and Cosmopolitans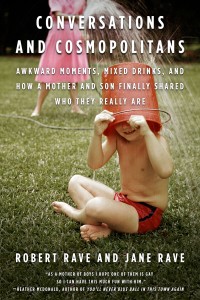 Conversations and Cosmopolitans by Jane and Robert Rave
After moving from the Midwest to New York City at the age of twenty-one, Robert Rave finally found the resolve to mail a letter to his parents informing them that he was gay.  Once Robert was "out," both he and his mother Jane felt a newfound freedom to be more honest with each other.  From the discrimination Jane experienced as a pregnant teenager in a small town, to Robert's "manscaping," almost no topic was off-limits in their conversations.  Soon, Robert was creating a "gay glossary" so that Jane could understand the lexicon and Jane was giving Robert the same dating advice that she used to give Robert's older sister ("men are jerks").
Conversations and Cosmopolitans is a frank, funny, and heartfelt look at coming out from both a mother's and son's perspective, and an inspiring memoir about building family relationships based on honesty, openness, and acceptance.
"As a mother of boys I hope one of them is gay so I can have this much fun with him." –Heather McDonald, writer and story producer for Chelsea Lately and the New York Timesbestselling author of You'll Never Blue Ball in This Town Again
"The most endearing, inventive memoir I've read in ages…[It] is a necessary book, a book we've all been waiting for, as it deals honestly, affectionately, and originally with an experience that's central to our contemporary lives–the struggle to know and love your parents and children exactly as they are." –Robert Leleux, author of The Memoirs of a Beautiful Boy
"[A] heartfelt look at a mother and son's relationship from both points of view. [L]augh-out-loud funny, touching and poignant…"–Lance Bass, Grammy-nominated singer, former member of *NSYNC, and author of Out of Sync
"Totally delightful…The main character is really Manhattan. And as Robert struggles to get a life in Gay New York, Jane coaches him through the rough patches with her no-nonsense maternal charm."—Mishna Wolff, author of I'm Down
"Robert is snarky without being bitchy, Jane dry but not drab, and this creates a balanced and infectious humor in the book that plays nicely with the moments of poignancy that pop up time and again. Read this book, grab a drink, start a conversation about it. You might cry some, you'll probably laugh more, and you'll realize that it's really not that complicated." —Elle
____________________________________________________________________
How do women really communicate?
Book Clubs will love the hilarity of
The CHICKtionary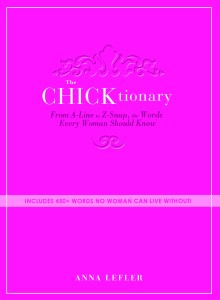 The CHICKtionary by Anna Lefler
Your bestie, biffle, and GMF rolled into one!
You're all over the definitions of "low lights," "ruching," and a "tankini." But can you spot a "Mrs. Potato Head" when you see one?
That's where The CHICKtionary comes in. The CHICKtionary is a humorous dictionary of the words and phrases women use—and what they really mean when they use them.  The book corrals more than 450 terms, including some you know (uterus) and some you might not (flexting), and defines each from the perspective of a typical contemporary woman—a woman who avoids accidental pageant hair, is frenemies with her robotic vacuum and only occasionally relies on her high-waisted jeans to hold up her strapless bra.
I have to tell you that Anna Lefler's CHICKtionary is pure genius. I always knew she was funny but the definitions you will find in this must-read guide to the way women speak are sure to make you laugh until you pee.  ~ Stefanie Wilder-Taylor, comedian and author of Sippy Cups Are Not for Chardonnay: And Other Things I Had to Learn as a New Mom 
Before reading Anna Lefler's book, I had no idea that the word "herpes-ish" even existed.  Now I can't stop using it.  This book is guaranteed to be passed around to all your friends.  It's totally herpes-ish.  But in a good way. ~ Jenny Lawson, The Bloggess and author of the forthcoming Let's Pretend This Never Happened:  A Mostly True Memoir from Amy Einhorn Books 
Anna Lefler is an American original.  She isn't merely blazingly smart and achingly funny.  She's also so utterly sympatico with what women think and how women talk that years from now sociologists will be consulting CHICKtionary as the only true and tested source on the challenging but wholly worthy subject.  The English language has a true friend in Anna.  So, of course, do women. ~ Beth Kephart, National Book Award Finalist and author of thirteen books, both fiction and non-fiction including, most recently, YOU ARE MY ONLY. 
_____________________________________________________________________________________
Please fill out our super-short registration form (<—click here) by December 31st for a chance to win a set of up to ten copies of one of these great books for your book club!  We will randomly choose winners at the end of the month.  This contest is open to clubs in the US and Canada only (our apologies to friends in other countries).
Best of luck!
We 
LOVE

 Book Clubs!