A frightening family legacy,
a difficult decision..
Book clubs will find much to discuss in
What We Have by Amy Boesky

What We Have by Amy Boesky
At thirty-two, Amy Boesky thought she had it all figured out: a wonderful new man in her life, a great job, and the (nearly) perfect home. For once, she was almost able to shake the terrible fear that had gripped her for as long as she could remember. Women in her family had always died young-from cancer-and she and her sisters had grown up in time's shadow. It colored every choice they made and was beginning to come to a head now that each of them approached thirty-five-the deadline their doctors prescribed for having preventive surgery with the hope they could thwart their family's medical curse. But Amy didn't want to dwell on that now. She wanted to plan for a new baby, live her life. And with the appreciation for life's smallest pleasures, she did just that. In What We Have, Amy shares a deeply transformative year in her family's life and invites readers to join in their joy, laughter, and grief.
In a true story as compelling as the best in women's fiction, written with the sagacity of Joan Didion and the elegance of Amy Bloom, Amy Boesky's journey celebrates the promise of a full life, even in the face of uncertainty.
Learn more about What We Have on Amy's website, www.amyboesky.com.
---
What does it mean to live for a cause? What does it do to families? What can be forgiven and what cannot? Book groups will find much to talk about in this richly themed novel set in Israel about the interplay between politics and religion, and its effects on fathers and sons and sisters. The Miami Herald calls the author "A masterful weaver 
whose deft storytelling brings her diverse cast of conflicted characters and fraught themes into a powerful emotional and spiritual whole."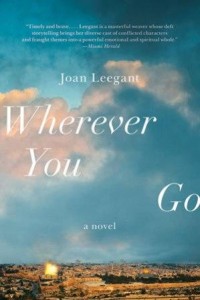 Wherever You Go by Joan Leegant
A gripping novel about the lengths to which we will go in the name of a cause.
Yona Stern has traveled from New York to Israel to make amends with her estranged sister, a stoic ideologue and mother of five who has dedicated herself to the radical West Bank settler cause. Yona's personal life resembles nothing of her sister's, but it isn't politics that drove the two apart.
Now a respected Jerusalem Talmud teacher, Mark Greenglass was once a drug dealer saved by an eleventh-hour turn to Orthodox Judaism. But for reasons he can't understand, he's lost his once fervent religious passion. Is he through with God? Is God through with him?
Enter Aaron Blinder, a year-abroad drop-out with a history of failure whose famous father endlessly—some say obsessively—mines the Holocaust for his best-selling, melodramatic novels. Desperate for approval, Aaron finds a home on the violent fringe of Israeli society, with unforeseen and devastating consequences.
In a sweeping, beautifully written story, Joan Leegant weaves together three lives caught in the grip of a volatile and demanding faith. Emotionally wrenching and unmistakably timely, Wherever You Go shines a light on one of the most disturbing elements in Israeli society: Jewish extremist groups and their threat to the modern, democratic state. This is a stunningly prescient novel.
Find out about the author and Wherever You Go at www.joanleegant.com. There's a Reading Group Guide at the back of the book especially for book clubs!
---
Please fill out our super-short registration form by August 31st and register to win a set of up to ten copies of What We Have or Wherever You Go!  We will randomly choose a winner at the end of the month.  This contest is open to clubs in the US and Canada only (our apologies to friends in other countries).
Best of luck!
We 
LOVE

Book Clubs!