We have FOUR fantastic books in our
July Book Club of the Month Contest!
_____________________________________________________________________
Immigrant life, father/son relationships, and the evolution of an unlikely writer
Book Clubs will find all that and so much more to discuss in Thoughts Without Cigarettes by Oscar Hijuelos!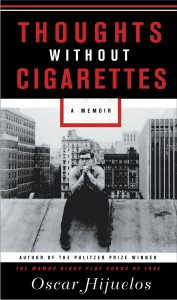 Pulitzer Prize-winning author Oscar Hijuelos has won multiple awards for his novels that feature locales as exotic as beautiful Havana and subjects as universal as family, dreams, love, and music.  For his latest project, he writes from the heart about the people and places that have inspired his internationally bestselling novels.  Thoughts Without Cigarettes will detail those developmental years of his life, immigrant life in New York in the 50s and 60s, his relationship with his father, an eye-opening return visit to Cuba later in life, influential time spent in Europe, and much more.  A comprehensive look at the development of an unlikely writer, Thoughts Without Cigarettes will offer a guide through Hijuelos's innermost thoughts and experiences.
_____________________________________________________________________
Mother/Daughter relationships, growing up, letting go
Book Clubs will find much to laugh about and talk over in The Gap Year by Sarah Bird!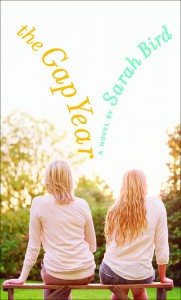 From the widely praised author of The Yokota Officers Club and The Flamenco Academy, a novel as hilarious as it is heartbreaking about a single mom and her seventeen-year-old daughter learning how to let go in that precarious moment before college empties the nest. 

In The Gap Year, told with perfect pitch from both points of view, we meet Cam Lightsey, lactation consultant extraordinaire, a divorcée still secretly carrying a torch for the ex who dumped her, a suburban misfit who's given up her rebel dreams so her only child can get a good education.
We also learn the secrets of Aubrey Lightsey, tired of being the dutiful, grade-grubbing band geek, ready to explode from wanting her "real" life to begin, trying to figure out love with boys weaned on Internet porn.
When Aubrey meets Tyler Moldenhauer, football idol–sex god with a dangerous past, the fuse is lit. Late-bloomer Aubrey metastasizes into Cam's worst silent, sullen teen nightmare, a girl with zero interest in college. Worse, on the sly Aubrey's in touch with her father, who left when she was two to join a celebrity-ridden nutball cult.
As the novel unfolds—with humor, edge-of-your-seat suspense, and penetrating insights about love in the twenty-first century—the dreams of daughter, mother, and father chart an inevitable, but perhaps not fatal, collision . . .
Discussion questions for The Gap Year can be found HERE.
The Gap Year is featured in Good Housekeeping's Summer Beach Reads 2011 and  Yahoo's 10 Best Books for Summer!
_____________________________________________________________________
Finding adventure and love, independence and stability, having it all in midlife
Book Clubs will enjoy discussing the many universal issues in All Over the Map by Laura Fraser!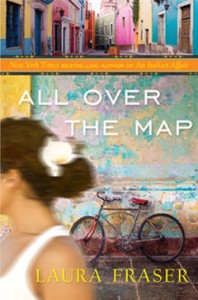 In All Over the Map, the bestselling author of An Italian Affair buys us the plane tickets and takes us in search of adventure and romance as she wonders whether it's possible, in midlife, to have it all.
Laura loves being a writer who travels all over the map. She can pick up and go whenever she wants, jumping on a plane to escape a romance gone bad or to taste the world's best ceviche.
When the sexy Parisian professor who helped Laura get over her divorce tells her that he has a new girlfriend, Laura wonders whether her passion for travel is interfering with what most women seem to want at her age: a husband, a family, and a safe, settled life. She's further shaken by a trip to the South Pacific that goes very wrong, and for a while she becomes a travel writer afraid to travel.
Searching for love and coping with her ordeal, Laura tangos in Buenos Aires, seeks wisdom from an Amazonian shaman, heads off into the wilderness on Outward Bound, goes on a ten-day meditation retreat, interviews sex-trafficked women in Italy, and reports on the aftermath of genocide in Rwanda. When she's dumped on her forty-fifth birthday, she's oddly relieved, and realizes she isn't going to wait for a man anymore. She decides that although she doesn't have the life she anticipated, she'll create the life she wants–at home in San Francisco, and in a small arts town in Mexico. Laura experiences the extremes of adventure and emotion that women of all ages will relate to — and she comes out satisfied and happy on the other side.
Discussion questions for All Over the Map from O, the Oprah Magazine can be found HERE.
Laura is happy to talk with book clubs via Skype or phone; email info@laurafraser.com.
All Over the Map was named National Geographic Traveler's Book of the Month, and one of O, the Oprah Magazine's Ten Books to Read Now.
""All Over The Map makes you want to pack your bags, explore the world, mend your broken heart, and totally reclaim your life."
— Elizabeth Gilbert, author of Eat, Pray, Love and Committed
"Brave, honest, and compulsively readable. I truly laughed and cried."
— Mary Roach, author of Stiff, Spook, and Bonk
Join Laura for her Mexican Writing Fiesta in San Miguel de Allende, Oct 23-29: http://www.laurafraser.com/writing-from-experience-in-san-miguel-de-allende/.
_____________________________________________________________________
Forgiveness, redemption, freedom, and the price we pay to get there
Book Clubs won't be able to stop talking about A Good Hard Look by Ann Napolitano!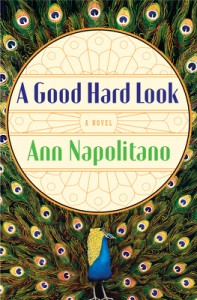 Crippled by lupus at twenty-five, celebrated author Flannery O'Connor was forced to leave New York City and return home to Andalusia, her family farm in Milledgeville, Georgia. Years later, as Flannery is finishing a novel and tending to her menagerie of peacocks, her mother drags her to the wedding of a family friend.
Cookie Himmel embodies every facet of Southern womanhood that Flannery lacks: she is revered for her beauty and grace; she is at the helm of every ladies' organization in town; and she has returned from her time in Manhattan with a rich fiancé, Melvin Whiteson. Melvin has come to Milledgeville to begin a new chapter in his life, but it is not until he meets Flannery that he starts to take a good hard look at the choices he has made. Despite the limitations of her disease, Flannery seems to be more alive than other people, and Melvin is drawn to her like a moth to a candle flame.
Melvin is not the only person in Milledgeville who starts to feel that life is passing him by. Lona Waters, the dutiful wife of a local policeman, is hired by Cookie to help create a perfect home. As Lona spends her days sewing curtains, she is given an opportunity to remember what it feels like to be truly alive, and she seizes it with both hands.
Heartbreakingly beautiful and inescapably human, these ordinary and extraordinary people chart their own courses through life. In the aftermath of one tragic afternoon, they are all forced to look at themselves and face up to Flannery's observation that "the truth does not change according to our ability to stomach it."
Please fill out our super-short registration form and register to win a set of up to ten copies of Thoughts Without Cigarettes by Oscar Hijuelos, The Gap Year by Sarah Bird, All Over the Map by Laura Fraser, or A Good Hard Look by Ann Napolitano by July 31st!  We will randomly choose winners at the end of the month.  This contest is open to clubs in the US and Canada only (our apologies to friends in other countries).
Best of luck!
We 
LOVE

Book Clubs!