Do you have to forgive someone
a lifetime of sins,
just because they have Alzheimer's?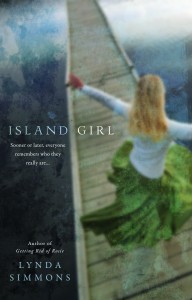 Island Girl by Lynda Simmons
Island Girl by Lynda Simmons is the emotionally riveting story of a 55 year old mother, Ruby Donaldson, fighting to reunite her family as she struggles with the diagnosis of early on-set Alzheimer's.
Facing the terrible reality of her illness, Ruby refuses to let the disease control her future.  But before she can take any final action, she must find a way to convince her older daughter Liz to grow up and come home; to take her place as head of the family in order to secure the future of their home on the island, and ensure that Liz's younger sister, Grace, will be cared for in the only place that is safe for her.
But Liz and Ruby are estranged for good reasons, and now Liz wonders why she should forgive her mother just because she's sick.  Does Alzheimer's somehow grant Ruby instant immunity, a moral get-out-of-jail-free card?
Ruby always thought she'd have a lifetime to make things right, but suddenly time is running out.
"…Simmons exhibits an exquisitely deft understanding of the extraordinary difficulties that unitl a family, and her portrayals of the three women, told in alternating first-person chapters, enable satisfying connections with each." Publisher's Weekly
Read an excerpt of Island Girl HERE.
Please fill out our super-short registration form by June 30th and register to win a set of up to ten copies of Island Girl!  We will randomly choose a winner at the end of the month.  This contest is open to clubs in the US and Canada only (our apologies to friends in other countries).
Best of luck!
We 
LOVE

Book Clubs!