We have THREE fabulous books in our Book Club of the Month contest for April!
---
Can a box of recipes help a young woman understand her past and defend her future?
Discussion topics for book clubs include self-discovery, autism and Asperger's Syndrome, what it means to be "normal", and finding comfort in the kitchen.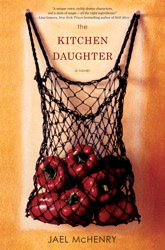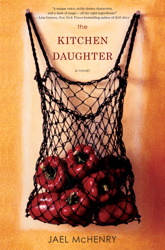 The Kitchen Daughter by Jael McHenry
After the unexpected death of her parents, painfully shy and sheltered 26-year-old Ginny Selvaggio seeks comfort in cooking from family recipes. But the rich, peppery scent of her Nonna's soup draws an unexpected visitor into the kitchen: the ghost of Nonna herself, dead for twenty years, who appears with a cryptic warning ("do no let her…") before vanishing like steam from a cooling dish.
A haunted kitchen isn't Ginny's only challenge. Her domineering sister, Amanda, (aka "Demanda") insists on selling their parents' house, the only home Ginny has ever known. As she packs up her parents' belongings, Ginny finds evidence of family secrets she isn't sure how to unravel. She knows how to turn milk into cheese and cream into butter, but she doesn't know why her mother hid a letter in the bedroom chimney, or the identity of the woman in her father's photographs. The more she learns, the more she realizes the keys to these riddles lie with the dead, and there's only one way to get answers: cook from dead people's recipes, raise their ghosts, and ask them.
"A delectable family drama, The Kitchen Daughter whips up a sumptuous blend of suspense, magic and cooking. A nourishing debut." – Allison Winn Scotch, New York Times bestselling author of The One That I Want
"A unique voice, richly drawn characters, and a dash of magic–all the right ingredients!"– New York Times bestseller Lisa Genova
---
Book Clubs will enjoy discussing themes including friendship and rivalry, history and identity, love and betrayal, and will savor the rich descriptions of art, ballet and a priceless jewelry collection.
"An exceptional debut novel…of secrets, intrigue, and wonderfully described priceless gems." –USA Today "This novel, about an oppressive Soviet Russia, a mysterious amber pendant, and the lives of ballerinas, composers, and poets, is fantastic." —The Rumpus
Russian Winter by Daphne Kalotay
When Nina Revskaya puts her remarkable jewelry collection up for auction, the former Bolshoi Ballet star finds herself overwhelmed by memories of her homeland, and of the events, both glorious and heartbreaking, that changed her life half a century earlier. It was in Russia that she discovered the magic of dance and fell in love, and where, faced with Stalinist aggression, a terrible discovery incited a deadly act of betrayal—and an ingenious escape to the West.
Nina has kept her secrets for half a lifetime. But now Drew Brooks, an inquisitive associate at a Boston auction house, and Grigori Solodin, a professor who believes Nina's jewels hold the key to unlocking his past, begin to unravel her story—setting in motion a series of revelations that will have life-altering consequences for them all.
"You will be awake until 4 a.m. reading Daphne Kalotay's debut novel."  –The Oregonian "A magnificent tale of love, loss, betrayal, and redemption." –Washington Post
Visit the author at her website, and see the suggested discussion questions here.

---
Looking to reconnect with their ancestral home and with one another, three generations of women tour mainland China on a journey that will change their family forever.
Strong women, self-discovery, travel to ancestral lands, what defines a family, and how family history affects us will be hot topics for your book club.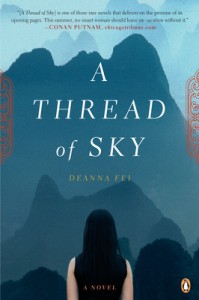 A Thread of Sky by Deanna Fei
A stunning debut, A Thread of Sky is the story of a family of women and the powerful thread that binds their lives. In following the paths chosen by six fiercely independent women, A Thread of Sky explores the terrain we must travel to recognize the strength and vulnerability of those closest to us.
When her husband of thirty years is killed in a devastating accident, Irene Shen and her three daughters are set adrift. Nora, the eldest, retreats into her high-powered New York job and a troubled relationship. Kay, the headstrong middle child, escapes to China to learn the language and heritage of her parents. Sophie, the sensitive and artistic youngest, is trapped at home until college, increasingly estranged from her family-and herself. Terrified of being left alone with her grief, Irene plans a tour of mainland China's must sees, reuniting three generations of women-her three daughters, her distant poet sister, and her formidable eighty-year-old mother-in a desperate attempt to heal her fractured family.
If only it was so easy. Each woman arrives bearing secrets big and small, and as they travel-visiting untouched sections of the Great Wall and the seedy bars of Shanghai, the beautiful ancient temples and cold, modern shopping emporiums-they begin to wonder if they will ever find the China they seek, the one their family fled long ago.
Over days and miles they slowly find their way toward a new understanding of themselves, of one another, and of the vast complexity of their homeland, only to have their new bonds tested as never before when the darkest, most carefully guarded secret of all tumbles to the surface and threatens to tear their family apart forever. A Thread of Sky is a beautifully written and deeply haunting story about love and sacrifice, history and memory, sisterhood and motherhood, and the connections that endure.
---
Please fill out our super-short registration form and register by April 30th to win a set of up to ten copies of The Kitchen Daughter and a chat with author Jael McHenry via Skype or speaker phone for your book club; up to ten copies of Russian Winter; or up to ten copies of A Thread of Sky!  We will randomly choose a winner at the end of the month.  This contest is open to clubs in the US and Canada only (our apologies to friends in other countries).
Best of luck!
We 

LOVE

Book Clubs!