Book clubs will ponder..
Are the rich really different?
Dead End Gene Pool: A Memoir by Wendy Burden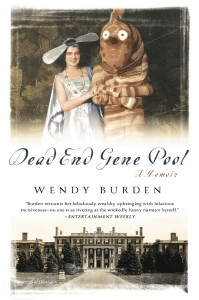 Joining the ranks of Augusten Burroughs & David Sedaris, a descendent of Cornelius Vanderbilt takes a look at the decline of her wealthy blue-blooded family in her irreverent and darkly humorous memoir.  The New York Times calls author Wendy Burden "an extremely funny writer" and Gus Van Sant raves "Wendy Burden takes us inside the family circus that was her side of the Vanderbilt dynasty, bringing American class structure, sibling rivalry, and the decline of the bluebloods vividly to life.  It is a wonderful read."

ABOUT THE AUTHOR: Wendy Burden is a confirmed New Yorker who, to her constant surprise, lives in Portland, Oregon. She is the great-great-great-great granddaughter of Cornelius Vanderbilt, which qualifies her to comment freely on the downward spiral of blue blood families. She has worked as an illustrator, a zookeeper, and a taxidermist; and as an art director for a pornographic magazine from which she was fired for being too tasteful. She was also the owner and chef of a small French restaurant, Chez Wendy. She has yet to attend mortuary school, but is planning on it.

Please fill out our super-short registration form and register to win a set of up to ten copies of Dead End Gene Pool by March 31st!  We will randomly choose a winner at the end of the month.  This contest is open to clubs in the US and Canada only (our apologies to friends in other countries).
Best of luck!
We 
LOVE

Book Clubs!