Here's a book you'll wish you could hand your younger self!
Multi-generational book clubs will get a kick out of this!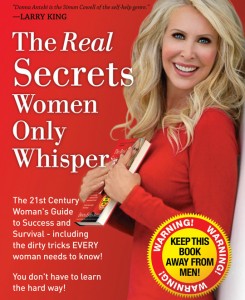 The Real Secrets Women Only Whisper Author Donna Estes Antebi
Which not-so-brilliant Neanderthal said all women have to learn the hard way? Introducing The Real Secrets Women Only Whisper, the essential 21-century playbook for modern womanhood that puts an outrageously accurate spin on feminist advice that may just save your life, your sanity or your soul.
From accomplished businesswoman and advice guru Donna Estes Antebi, think a female Simon Cowell, comes a controversial collection of fast and furious insights that will get women talking (and talking and talking) about intimate issues they care most about like men, love, dating, career, marriage, sex and divorce. Like no other book in existence, The Real Secrets pulls back the sheets on the complexities of modern fem living in ways never seen before in print.
Capturing the fun and feminine camaraderie of ultra-successful franchises like Sex in the City, Desperate Housewives and the He's Just Not That Into You series, The Real Secrets Women Only Whisper is a lightning rod, a confidant and a information source that will help women avoid common life and love landmines by espousing wisdom, understanding and a healthy dose of reality.
The book aims to rattle cages and shake the foundations of housewives and single women everywhere who, despite an ever-changing modern landscape, continue to play by rules laid down by their mothers and grandmothers. Unleash this collection of explosive gems in a woman's book club and step back as brutally honest sparks of wisdom quickly become controversy bonfires.
Women only thought they had something to talk about…
KNOWLEDGE IS POWER
By inspiring readers to avoid the traps so many women encounter while following their own personal life road, Antebi illustrates how most women nowadays are actually suffering the same pain, living with the same disappointments and losing sleep over the same fears and regrets. There is no longer an excuse to be caught without a roadmap.
As insightful as it is fun, The Real Secrets is a life guide to savor and cherish. Smart mothers will tuck it away to present to their daughters when the time is right. Brides will share it with bridesmaids, friends with friends and bridesmaids with brides. The only requirement is to keep it away from men. Who wants men knowing we're smarter than they think?
For every woman seeking success in life, love, career or family, The Real Secrets is required reading that is destined to find a home in millions of women's permanent collections. Smart, sassy and sardonic, Antebi tells the truth when most women dare not speak. Spoken in your language, The Real Secrets is brain candy for the soul; so don't be surprised when you're hooked. It's that addictive and (no lie) it's actually good for you!
The Real Secrets Women Only Whisper, the fat free alternative to misery.
Please fill out our super-short registration form and register to win by February 28th!  We will randomly choose a winner at the end of the month.  This contest is open to clubs in the US and Canada only (our apologies to friends in other countries).
Best of luck!
We 
LOVE

Book Clubs!