Hardcover: 304 pages
Publisher: Crown (February 8, 2011)
When Napoli met the handsome Sebastian at a cookbook party in New York City, she was intrigued by this man who traveled to Bhutan regularly. And when the accomplished L.A.-based journalist (MSNBC, CNN, public radio's Marketplace) researched the country about which he spoke so enthusiastically, she became entranced with Bhutan, a tiny Himalayan kingdom that sits between India and China.
This country–dubbed "the happiest on earth" because of its focus on environmental and social progress–is hard to get to, with its remote location and governmental deterrents to tourism, like a per-person, per-day tourist tax. But a friend of Sebastian's needs help with startup radio station Kuzoo FM, so Napoli leaves L.A. and goes to Bhutan for six weeks. She writes, "After more than two decades of reducing even the most complex issues to 1,000 words or less, I was tired of observing life from a distance." While the author turns an eye on her own motivations (nothing further developed with Sebastian), she refrains from tortured navel-gazing and instead shares and reflects on Bhutan's people, history, and customs (from painting phalluses on houses to repel evil spirits to Buddhism's role in daily life). Napoli's adventures at home and abroad, in nature and career and spirit, will delight readers.
"Like" Radio Shangri-La's Facebook page.
"Radio Shangri-La is a beautiful, touching and deeply compelling memoir by a well-known public radio reporter who arrived in the tranquil kingdom of Bhutan to help establish the nation's first radio station and, as important, to further her own mid-life assessment of a life that felt full of missteps.  The book is delightful reading–honest, moving and quietly spiritual as it offers both an intimate portrait of a country only halfway to modernity and a soul in quest of meaning".–Scott Turow, author of Innocent
"Radio Shangri-La grabs you by the heart and takes you on a winding dual journey — into the self and into a fairy tale kingdom known for measuring happiness as its gross national product. Charming, illuminating, and often ironic, this memoir is a continuous discovery of myths and realities in finding deeper personal meaning."–Amy Tan, author of The Joy Luck Club and Saving Fish from Drowning
"Radio Shangri-La has shades of Pico Iyer and Bruce Chatwin and a similar genius for parachuting the reader into a strange land and culture.  Bhutan has long fascinated me and Radio Shangri-La is the perfect vehicle to get there."– Abraham Verghese, author of Cutting for Stone.
"Enjoyable memoir about ex-journalist Napoli's search for wholeness and spiritual renewal. A refreshingly uplifting book."–Kirkus Reviews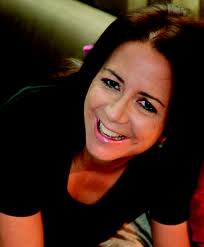 When Lisa Napoli found herself unhappy with her work in the fast-paced U.S. media world, she volunteered to help start Bhutan's first youth-oriented radio station. Bhutan is a small kingdom in the Himalayas, home to 650,000 residents, most of whom make their living as subsistence farmers. The nation has experienced rapid change in the past forty years, becoming a democracy in 2008 after a century of monarchy.
In her time in Bhutan, Napoli learned more about the people, history and culture of the "last Buddhist kingdom" and the "happiest kingdom on Earth," and she also learned quite a bit about herself. She's sharing those lessons in her new book, Radio Shangri-la: What I Learned in Bhutan, the Happiest Kingdom on Earth.
Earlier in her career, Lisa was the Internet correspondent for MSNBC, a columnist for MSNBC.com, and the first staff reporter/columnist at the NY Times Cybertimes, now defunct. She's also worked at a division of the home shopping channel QVC, in craft services for the horror film Hellraiser 3, and in public relations for Summit House, an alternative to prison for women and their kids in Greensboro, North Carolina. She began her career at CNN in 1984.
A native of Brooklyn, New York, Lisa is a graduate of Hampshire College.
Connect with Lisa on her website, www.lisanapoli.com, on Facebook, and on Twitter.
Lisa Napoli's TLC Book Tours TOUR STOPS:
Monday, February 14th:  Books, Movies, and Chinese Food
Wednesday, February 16th:  A Musing Reviews
Thursday, February 17th:  Nomad Reader
Monday, February 21st:  Man of La Book
Wednesday, February 23rd:  Evolution You
Thursday, February 24th:  Book Bird Dog
Monday, February 28th:  BookNAround
Wednesday, March 2nd:  The Zen Leaf
Thursday, March 3rd:  eclectic/eccentric
Tuesday, March 8th:  Silver and Grace
Wednesday, March 9th:  Joyfully Retired
Thursday, March 10th:  Reading on a Rainy Day
Monday, March 14th:  BookHounds
Wednesday, March 16th:  Scraps of Life
Thursday, March 17th:  Rundpinne
Monday, March 21st:  Chick with Books
Tuesday, March 22nd:  Luxury Reading
Monday, July 18th:  Bonjour, Cass!