Does your book club love
historical fiction?
If so, have we got a book for you!
Queen Hereafter by Susan Fraser King chronicles the life of Margaret of Scotland, a contemporary of the infamous Lady Macbeth, and a woman destined for sainthood.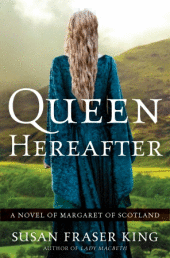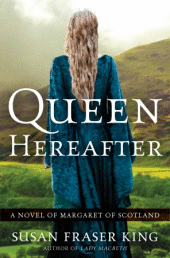 Margaret, a young Saxon princess, is shipwrecked with her family on the coast of Scotland and forced to accept sanctuary from the recently widowed warrior-king Malcolm Canmore of Scotland.  Malcolm sees a political prize in Margaret, and promises to help her brother, the outlawed rebel Edgar of England, in return for his sister's hand in marriage.
When Malcolm brings a female bard, Eva, to court as a hostage to ensure good behavior of her kinswoman, his conniving enemy Lady Macbeth, Margaret, and Eva expect to resent one another.  Instead, they discover an unlikely bond as outcasts of a sort–Eva a wild Celtic spirit captive among her enemies, Margaret suppressing her passions as she endures increasing pressure as a queen and a mother of princes.
Torn between loyalties, Eva must betray the king and the new queen in order to honor her devotion to the former queen.  Thrown into Malcolm's dungeon, charged with witchcraft and treason, Eva soon learns that Queen Margaret–counseled by the furious king and his powerful priests–will decide the fate of the young bard and her mentor, the troublesome Lady Macbeth.
Please fill out our super-short registration form and register to win by January 31st!  We will randomly choose a winner at the end of the month.  This contest is open to clubs in the US and Canada only (our apologies to friends in other countries).
Best of luck!
We 
LOVE

Book Clubs!