Do women see war differently than men?
This book will make you think about questions of love and loyalty against the backdrop of the Vietnam War.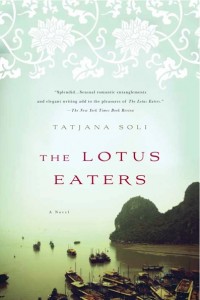 In the final days of a falling Saigon, The Lotus Eaters unfolds the story of three remarkable photographers brought together under the impossible umbrella of war: Helen Adams, a once-naive ingenue whose ambition conflicts with her heart, over the course of the fighting.; the mysterious Linh, the Vietnamese man who loves her, but is torn between conflicting loyalties to his homeland and his heart; and Sam Darrow, a man addicted to the narcotic of violence, to his intoxicating affair with Helen and to the ever-increasing danger of his job. All three become transformed by the conflict they have risked everything to record.
In this much-heralded debut, Tatjana Soli creates a searing portrait of three souls trapped by their impossible passions, contrasting the wrenching horror of combat and the treachery of obsession with the redemptive power of love. Readers will be transfixed by this stunning novel of love, duty and ambition among the ruins of war.
"Haunting debut novel… quietly mesmerizing… tough and lyrical."  — Janet Maslin, New York Times
"Splendid first novel… Helen's restlessness and grappling, her realization that "a woman sees war differently," provide a new and fascinating perspective on Vietnam. Vivid battle scenes, sensual romantic entanglements and elegant writing add to the pleasures of "the Lotus Eaters."  — New York Times Book Review (Cover)
"The novel is steeped in history, yet gorgeous sensory details enliven the prose… 35 years after the fall of Saigon, Soli's entrancing debut brings you close enough to feel a part of it."–People Magazine
"…this is—not to mince words—a devastatingly awesome novel. It's one of those books that I didn't want to put down—I resented everything else that I needed to do in my life, because I didn't want to stop reading it."  — Nancy Pearl, NPR
A reading group guide for THE LOTUS EATERS can be found here.
Please fill out our super-short registration form and register to win by December 31st!  We will randomly choose a winner at the end of the month.  This contest is open to clubs in the US and Canada only (our apologies to friends in other countries).
Best of luck!
We 
LOVE

Book Clubs!