About Every Last One
In this breathtaking and beautiful novel, the #1 New York Times bestselling author Anna Quindlen creates an unforgettable portrait of a mother, a father, a family, and the explosive, violent consequences of what seem like inconsequential actions.
Mary Beth Latham is first and foremost a mother, whose three teenaged children come first, before her career as a landscape gardener, or even her life as the wife of a doctor.  Caring for her family and preserving their everyday life is paramount.  And so, when one of her sons, Max, becomes depressed, Mary Beth becomes focused on him, and is blindsided by a shocking act of violence. What happens afterwards is a testament to the power of a woman's love and determination, and to the invisible line of hope and healing that connects one human being with another.
Ultimately, in the hands of Anna Quindlen's mesmerizing prose, Every Last One is a novel about facing every last one of the the things we fear most, about finding ways to navigate a road we never intended to travel, to live a life we never dreamed we'd have to live but must be brave enough to try.
About Anna Quindlen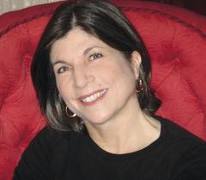 Anna Quindlen is the author of five previous bestselling novels (Rise and Shine, Blessings, Object Lessons, One True Thing, Black and Blue), and seven nonfiction books (A Short Guide to a Happy Life, Good Dog. Stay., Being Perfect, Loud & Clear, Living Out Loud, Thinking Out Loud, and How Reading Changed My Life). Her New York Times column "Public and Private" won the Pulitzer Prize in 1992. From 2000-2009, She wrote the "Last Word" column for Newsweek.
Connect with Anna on her website and on Facebook
.
Anna Quindlen's TLC Book Tours TOUR STOPS:
Monday, March 21st:  Book Club Classics!
Tuesday, March 22nd:  Lit and Life
Wednesday, March 23rd:  Chaotic Compendiums
Thursday, March 24th:  She is Too Fond of Books
Friday, March 25th:  Joyfully Retired
Monday, March 28th:  Peeking Between the Pages
Tuesday, March 29th:  Musings of an All Purpose Monkey
Wednesday, March 30th:  Caribousmom
Monday, April 4th:  Luxury Reading
Wednesday, April 6th:  Book Hooked Blog
Thursday, April 7th:  Acting Balanced
Tuesday, April 12th:  Rundpinne