Something to ponder with your book club.. is love real?  Or is it an illusion?
Register your book club with TLC Book Tours by November 30th and you could win up to 10 copies of The Art of Disappearing by Ivy Pochoda for your group!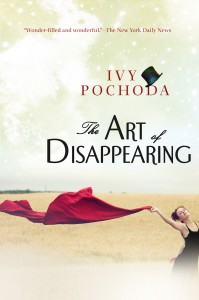 In the most imaginative and haunting love story since the The Time Traveler's Wife, a world unfolds where magic is a fickle and powerful force, love can save and destroy, and a couple's fate can be sealed by a mere sleight of hand…
In her elegant debut novel, The Art of Disappearing, Ivy Pochoda asks how love can be real if so much else is an illusion.
Toby Warring seems too young and too attractive to be sending drinks to strange women in a small-town Nevada saloon, but that is exactly how he meets Mel Snow, a textile designer who is selling her wares throughout the country.  In a brief but strangely familiar conversation, Toby shows Mel that he is a rare "real" magician—actually creating the wine he places in front of her—and explains that all he has ever wanted is to perform in Las Vegas.  They marry the next day.
When Toby's magic slips dangerously out of his control during his Las Vegas debut, he swears off magic and the pair flee the desert's gaudy heat for the mysterious weather of Amsterdam.  They meet an enclave of elderly magicians who, like Toby, could once manifest their illusions before their talents faded.  But as they encourage Toby to return to his craft, Mel feels her marriage begin to unravel.  The growing distance between the couple prompts her to ask, in such a malleable world, is love a constant, or is it susceptible to Toby's magic?
"Ivy Pochoda's beguiling debut novel, The Art of Disappearing (St. Martin's), is a terrific page-turner about a stage magician and a traveling textile designer who meet in Vegas and marry two days later, and all the mystery and mayhem that ensues."
— Lisa Shea, Elle Magazine
A reading group guide for The Art of Disappearing can be found HERE.
Please fill out our super-short registration form HERE and register to win by November 30th!  We will randomly choose a winner at the end of the month.  This contest is open to clubs in the US and Canada only (our apologies to friends in other countries).
Best of luck!
We 
LOVE

Book Clubs!