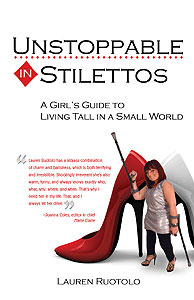 How to Live Large Every Day and Kick Butt Along the Way!
How does a girl who was originally predicted to live a wheelchair-bound existence become adventurous, self-assured, successful, and . . . unflappable? Standing 4 feet 2 inches tall in flats (which she would never be caught dead in, anyway), Lauren Ruotolo has spent her thirty-four-ish years seeing the world from a unique angle—upward facing. Lauren was born with McCune-Albright syndrome, a mysterious and rare genetic disease that researchers say occurs in anywhere between 1 in 100,000 and 1 in 1 million people. Some people with the condition tend to go the wheelchair route, but that was never a road Lauren wanted to travel. Her preferred method of transportation, instead, includes stiletto heels. Lauren has avoided the label of 'disabled' through uniquely discovering who she really is, and now you, too, can learn the secrets to living life in a big way.
In Unstoppable in Stilettos, Lauren offers you 'Lauren's Lessons,' in which she shares her hard-earned wisdom and life experiences to offer you a unique brand of life philosophies that you can apply to any of the rights of passages you may be experiencing as a Twenty-first Century Woman, including:
Navigating social pressures
Avoiding the label game
Overcoming insecurities
Combating career confusion
Turning rejection and obstacles into triumph
Dealing with toxic people
Discovering true self-expression
and so much more.
With Unstoppable in Stilettos you will have the tools to carve out your own path to self-confidence, success, and individualism . . . and have a blast along the way.
About Lauren

Lauren Ruotolo is the director of entertainment promotions at Hearst Magazines in New York City, where she is responsible for developing strategic key partnerships with television and cable networks, music labels, and movie studios. She recently helped produce E!'s Style Network show about the inner workings at Marie Claire fashion magazine and is working on two one-hour specials with Scripps Networks for Esquire and Food Network Magazine. Lauren joined Hearst Magazines from TV Guide magazine, where she was the director of consumer marketing and promotions and created the first-ever newsstand promotion in the United States with a CD on the cover. Ruotolo's first-person essay, 'Get Shorty,' which shared her philosophies on living with the rare genetic disorder McCune-Albright syndrome, was published in Marie Claire magazine in 2009 and was one of the most responded-to articles in the magazine's history. Ruotolo is on the advisory board of GlamourGals Foundation, Inc., Love Our Children USA, and is an active member in the New York chapter of Women in Communications.
Connect with Lauren on her website, on Twitter, and on Facebook.
Lauren Ruotolo's TLC Book Tours TOUR STOPS:
Monday, October 25th:  Juggling Life
Thursday, October 28th:  Stiletto Storytime
Tuesday, November 2nd:  The House of the Seven Tails
Wednesday, November 3rd:  Simply Stacie
Wednesday, November 10th:  In the Next Room
Monday, November 15th:  A Nut in a Nutshell
Thursday, November 18th:  Girls Gone Reading
Tuesday, November 23rd:  Amy's Creative Side
Wednesday, November 24th:  The 3 R's Blog
Friday, November 26th:  Rundpinne
Monday, December 6th:  Daydream Believer
Thursday, January 13th:  Silver and Grace