Mothers and daughters..
family secrets.

.
Here's one to get your club talking!
Register your book club with TLC Book Tours by September 30th and you could win up to 10 copies of How to Be An American Housewife by Margaret Dilloway for your book club!  Margaret will also be happy to schedule a phone call or Skype conversation with the winning club in September's Book Club of the Month Contest!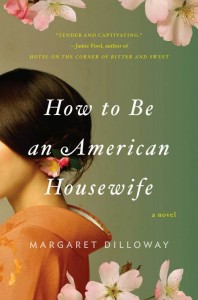 A lively and surprising novel about a Japanese woman with a closely guarded secret, the American daughter who strives to live up to her mother's standards, and the rejuvenating power of forgiveness.
How to Be an American Housewife is a novel about mothers and daughters, and the pull of tradition. It tells the story of Shoko, a Japanese woman who married an American GI, and her grown daughter, Sue, a divorced mother whose life as an American housewife hasn't been what she'd expected. When illness prevents Shoko from traveling to Japan, she asks Sue to go in her place. The trip reveals family secrets that change their lives in dramatic and unforeseen ways. Offering an entertaining glimpse into American and Japanese family lives and their potent aspirations, this is a warm and engaging novel full of unexpected insight.
Congrats to Margaret for the excellent 4 star review of How to Be An American Housewife in People Magazine!
A reading group guide for How to Be An American Housewife can be found HERE.
Connect with Margaret on Facebook!
Please fill out our super-short registration form HERE and register to win by September 30th!  We will randomly choose a winner at the end of the month.  This contest is open to clubs in the US and Canada only (our apologies to friends in other countries).
Best of luck!
We
LOVE
Book Clubs!