Book Club of the Month Contest – June
Here's one to get your club talking!
Register your book club with TLC Book Tours by June 30th and you could win up to 10 copies of Hidden Wives by Claire Avery for your book club!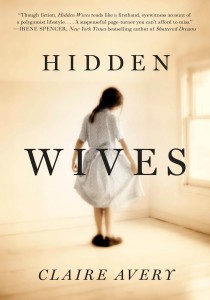 Growing up in a strict polygamist sect, teenaged sisters Rachel and Sara have always abided by the rules, which means that soon they must agree to marry much older men.  But Rachel's extraordinary beauty has captured the attention of the one man it would be impossible, under any circumstances, to refuse— their leader known to all as the Prophet.
The tension mounts at a breathtaking pace as Sara, finding disfavor with her father—for which she is forced to suffer a shocking punishment—begins to lose her faith just as Rachel, still bound by misguided loyalty, loses her heart to Luke Wilkinson, an outcast of their sect.  Can the two girls escape the only life they've ever known.. before it's too late?
Book club discussion questions for Hidden Wives can be found HERE.
Be sure to follow Hidden Wives on its TLC Book Tour in July!
Already registered with us?  You're in the drawing!  Not registered yet?  Go HERE and register to win by June 30th!  We will randomly choose a winner at the end of the month.  This contest is open to clubs in the US and Canada only (our apologies to friends in other countries).
Best of luck!
We
LOVE
Book Clubs!