We are so excited to announce our new feature-
TLC's Book Club of the Month contest!
We will choose a Book Club of the Month at the end of April!  Register your book club with TLC and you could win up to 10 copies of The Girls from Ames for your book club!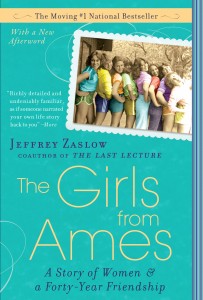 The #1 national bestseller, now in paperback: a moving tribute to female friendships, with the inspiring story of eleven girls and the ten women they became, from the coauthor of the million-copy bestseller The Last Lecture.
As children, they formed a special bond, growing up in the small town of Ames, Iowa. As young women, they moved to eighth different states, yet they managed to maintain an extraordinary friendship that would carry them through college and careers, marriage and motherhood, dating and divorce, the death of a child, and the mysterious death of the eleventh member of their group. Capturing their remarkable story, The Girls from Ames is a testament to the enduring, deep bonds of women as they experience life's challenges, and the power of friendship to overcome even the most daunting odds.
The girls, now in their forties, have a lifetime of memories in common, some evocative of their generation and some that will resonate with any woman who has ever had a friend.The Girls from Ames demonstrates how close female relationships can shape every aspect of women's lives-their sense of themselves, their choice of men, their need for validation, their relationships with their mothers, their dreams for their daughters-and reveals how such friendships thrive, rewarding those who have committed to them. With both universal events and deeply personal moments, it's a book that every woman will relate to and be inspired by.
Already registered with us?  You're in the drawing!  Not registered yet?  Go

HERE

and register to win by April 30th!  We will randomly choose a winner at the end of the month.  This contest is open to clubs in the US and Canada only (our apologies to friends in other countries).
Best of luck!
We
LOVE

Book Clubs!