About Last Christmas in Paris
• Paperback: 400 pages
• Publisher: William Morrow Paperbacks (October 3, 2017)
New York Times bestselling author Hazel Gaynor has joined with Heather Webb to create this unforgettably romantic novel of the Great War.
August 1914. England is at war. As Evie Elliott watches her brother, Will, and his best friend, Thomas Harding, depart for the front, she believes—as everyone does—that it will be over by Christmas, when the trio plan to celebrate the holiday among the romantic cafes of Paris.
But as history tells us, it all happened so differently…
Evie and Thomas experience a very different war. Frustrated by life as a privileged young lady, Evie longs to play a greater part in the conflict—but how?—and as Thomas struggles with the unimaginable realities of war he also faces personal battles back home where War Office regulations on press reporting cause trouble at his father's newspaper business. Through their letters, Evie and Thomas share their greatest hopes and fears—and grow ever fonder from afar. Can love flourish amid the horror of the First World War, or will fate intervene?
Christmas 1968. With failing health, Thomas returns to Paris—a cherished packet of letters in hand—determined to lay to rest the ghosts of his past. But one final letter is waiting for him…

Purchase Links
About Hazel Gaynor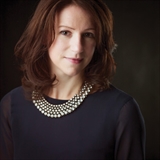 HAZEL GAYNOR is the New York Times and USA Today bestselling author of A Memory of Violets and The Girl Who Came Home, for which she received the 2015 RNA Historical Novel of the Year award. Her third novel The Girl from the Savoy was an Irish Times and Globe & Mail Canada bestseller, and was shortlisted for the BGE Irish Book Awards Popular Fiction Book of the Year.
Hazel was selected by US Library Journal as one of 'Ten Big Breakout Authors' for 2015 and her work has been translated into several languages.
Originally from Yorkshire, England, Hazel now lives in Ireland.
Find out more about Hazel at her website, and connect with her on Facebook and Twitter.
About Heather Webb
HEATHER WEBB writes historical fiction for Penguin, including her novels Becoming Josephine and Rodin's Lover.
As a former military brat, Heather naturally grew up obsessed with travel, culture, and languages. She put her degrees to good use teaching high school French for nearly a decade before channeling these passions into fiction. When not writing, she flexes her foodie skills or looks for excuses to head to the other side of the world.
Heather is a member of the Historical Novel Society and the Women's Fiction Writers Association.
Find out more about Heather at her website, and connect with her on Facebook and Twitter.
Tour Stops
Tuesday, October 3rd: Into the Hall of Books
Wednesday, October 4th: Back Porchervations
Thursday, October 5th: Bibliotica
Friday, October 6th: I Wish I Lived in a Library
Monday, October 9th: No More Grumpy Bookseller
Monday, October 9th: Reading Reality
Tuesday, October 10th: A Bookish Way of Life
Monday, October 16th: BookNAround
Tuesday, October 17th: Jathan & Heather
Wednesday, October 18th: Girl Who Reads
Wednesday, October 18th: A Chick Who Reads
Thursday, October 19th: Musings of a Bookish Kitty
Friday, October 20th: Books and Bindings
Monday, October 23rd: West Metro Mommy