We are so excited to introduce the new serial suspense series
TOUGH JUSTICE COUNTDOWN
This action-packed thriller unfolds in eight gripping installments, each written by top authors including Carla Cassidy, Tyler Anne Snell, Emmy Curtis and Janie Crouch.
Print Length: 85 pages
Publisher: Harlequin Special Releases (February 1, 2017)
Tick. Tock. BOOM.
FBI Special Agent Lara Grant had thought that she'd put her past behind her—finally—with her last case. But now a serial bomber is targeting Manhattan's elite power players, offering them a choice between saving hundreds of lives or seeing their darkest secrets exposed. Lara is working with the Crisis Management Unit to stop the bomber, but how will she react when she's the one who has to choose between truth…or death?
Part 1 of 8: an explosive new installment in the thrilling FBI serial from New York Times bestselling author Carla Cassidy and Tyler Anne Snell, Emmy Curtis and Janie Crouch.
For more information on the Tough Justice series, visit toughjusticeseries.com.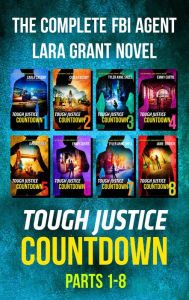 Purchase Links
TLC TOUR STOPS for TOUGH JUSTICE COUNTDOWN:
Wednesday, February 1st: Books and Spoons
Friday, February 3rd: Kahakai Kitchen
Monday, February 6th: Staircase Wit
Tuesday, February 7th: Reading Reality
Wednesday, February 8th: Bibliotica
Thursday, February 9th: Back Porchervations
Monday, February 13th: Bewitched Bookworms
Wednesday, February 15th: A Chick Who Reads
Thursday, February 16th: From the TBR Pile
Friday, February 17th: Books and Bindings
Tuesday, February 21st: Becky on Books