About This is Not Over
• Paperback: 400 pages
• Publisher: William Morrow Paperbacks; Reprint edition (January 17, 2017)
You'll have your deposit within seven business days, just like it says on Getaway.com. I've put through a refund to your credit card for the full amount, minus $200 to replace the stained sheets…
Miranda
When 30-year-old Dawn reads Miranda's email, she sees red. People have always told Dawn she's beautiful, and she just hopes they don't see beneath—to how she grew up, to what she's always tried to outrun. She revels in her getaways with her perfect (maybe too perfect) husband, the occasional long weekend in luxurious homes, temporarily inhabiting other people's privileged lives. Miranda's email strikes a nerve, with its lying intimation that Dawn is so dirty you need to throw out her sheets.
Beware of your "host"
I wouldn't have left a review at all, if I didn't feel it was my civic duty to warn others…
57-year-old Miranda thought she'd seen it all, but she can't believe her eyes when she reads Dawn's review. She's a doctor's wife but she needs that rental money, desperately. People might think her life is privileged, but they don't know what's really going on. They don't know about her son. She won't take this threat to her livelihood—to her very life—lying down.
Two very different women with this in common: Each harbors her own secret, her own reason why she can't just let this go. Neither can yield, not before they've dredged up all that's hidden, even if it has the power to shatter all they've built.
This is not over.
This is so not over.

Purchase Links
About Holly Brown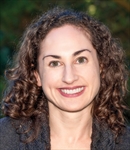 Holly Brown lives with her husband and toddler daughter in the San Francisco Bay Area, where she's a practicing marriage and family therapist. She is the author of the novel Don't Try to Find Me, and her blog, "Bonding Time," is featured on the mental health website PsychCentral.com.
Connect with Holly on Facebook.
Tour Stops
Tuesday, January 17th: Dreams, Etc.
Wednesday, January 18th: A Bookish Way of Life
Thursday, January 19th: Ms. Nose in a Book
Friday, January 20th: Mama Reads Hazel Sleeps
Tuesday, January 24th: No More Grumpy Bookseller
Thursday, January 26th: Tina Says…
Thursday, January 26th: she treads softly
Friday, January 27th: 5 Minutes For Books
Monday, January 30th: StephTheBookworm
Wednesday, February 1st: The Book Diva's Reads
Thursday, February 2nd: A Bookworm's World