We are so excited to announce a 2-part tour for the release of best selling author Pam Jenoff's new historical fiction title, The Orphan's Tale!
Follow along the excerpt tour beginning in February, with long excerpts in consecutive order at each tour stop, followed by a review tour beginning on 2/21, release day!
Paperback: 368 pages
Publisher: MIRA (February 21, 2017)
A powerful novel of friendship set in a traveling circus during World War II, The Orphan's Tale introduces two extraordinary women and their harrowing stories of sacrifice and survival 
Sixteen-year-old Noa has been cast out in disgrace after becoming pregnant by a Nazi soldier and being forced to give up her baby. She lives above a small rail station, which she cleans in order to earn her keep… When Noa discovers a boxcar containing dozens of Jewish infants bound for a concentration camp, she is reminded of the child that was taken from her. And in a moment that will change the course of her life, she snatches one of the babies and flees into the snowy night.
Noa finds refuge with a German circus, but she must learn the flying trapeze act so she can blend in undetected, spurning the resentment of the lead aerialist, Astrid. At first rivals, Noa and Astrid soon forge a powerful bond. But as the facade that protects them proves increasingly tenuous, Noa and Astrid must decide whether their friendship is enough to save one another—or if the secrets that burn between them will destroy everything.
"I read this novel in a headlong rush, transported by the relationship between two vastly different women during World War II: a Jewish circus aerialist and a teenage runaway with a baby. Deftly juggling secrets, lies, treachery, and passion, Pam Jenoff vividly brings to life the agonizing choices and life-or-death consequences for a hardy band of travelers under Nazi occupation."—Christina Baker Kline, New York Times bestselling author of Orphan Train
"Readers who enjoyed Kristin Hannah's The Nightingale and Sara Gruen's Water for Elephants will embrace this novel."—Library Journal
"In prose that is beautiful, ethereal, and poignant, The Orphan's Tale is a novel you won't be able to put down."—Bustle
"A gripping story about the power of friendship to save and redeem even in the darkest of circumstances, The Orphan's Tale sheds light on one of the most colorful and inspiring stories of heroism in Nazi Germany. This is a book not to be missed."—Melanie Benjamin, New York Times bestselling author of The Swans of Fifth Avenue and The Aviator's Wife
"Jenoff expertly performs a pirouetting tale worthy of a standing ovation. A circus of hidden Jews, a powerful friendship, The Orphan's Tale proves that the human spirit defies hate, fear, and gravity with a triumphant ta-da!"—Sarah McCoy, New York Times bestselling author of The Mapmaker's Children
.


Purchase Links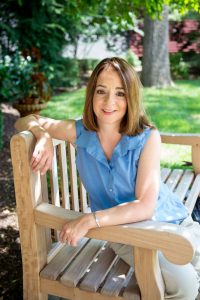 About Pam Jenoff
Pam Jenoff is the author of several novels, including the international bestseller The Kommandant's Girl, which also earned her a Quill Award nomination. Pam lives with her husband and three children near Philadelphia where, in addition to writing, she teaches law school.
Connect with Pam
.
.
.
.
THE ORPHAN'S TALE Excerpt Tour:
Monday, February 6th: The Sassy Bookster
Tuesday, February 7th: Just Commonly
Wednesday, February 8th: From the TBR Pile
Thursday, February 9th: Chick Lit Central
Friday, February 10th: Bibliotica
Monday February 13th: Satisfaction for Insatiable Readers
Tuesday, February 14th: Read Love Blog
Wednesday, February 15th: The Lit Bitch
Thursday, February 16th: Book Reviews and More by Kathy
Friday, February 17th: Books a la Mode
THE ORPHAN'S TALE Review Tour:
Monday, February 20th: A Chick Who Reads
Monday, February 20th: Barbara Khan
Tuesday, February 21st: Savvy Verse and Wit
Wednesday, February 22nd: Caryn, The Book Whisperer
Thursday, February 23rd: West Metro Mommy
Friday, February 24th: Reading is My SuperPower
Monday, February 27th: Just Commonly
Tuesday, February 28th: Bibliotica
Wednesday, March 1st: Kahakai Kitchen
Wednesday, March 1st: Susan Peterson
Thursday, March 2nd: A Literary Vacation
Monday, March 6th: Satisfaction for Insatiable Readers
Monday, March 6th: Literary Quicksand
Tuesday, March 7th: The Lit Bitch
Wednesday, March 8th: The Romance Dish
Thursday, March 9th: Just One More Chapter
Friday, March 10th: Suzy Approved
Friday, March 10th: A Bookish Affair
Monday, March 13th: Reading Reality
Monday, March 13th: Diary of an Eccentric
Tuesday, March 14th: Patricia's Wisdom
Wednesday, March 15th: Bibliophiliac
Thursday, March 16th: The Maiden's Court
Friday, March 17th: View from the Birdhouse
Monday, March 20th: A Bookish Way of Life
Tuesday, March 21st: Write Read Life
Wednesday, March 22nd: 100 Pages a Day
Thursday, March 23rd: Silver's Reviews
Friday, March 24th: Not in Jersey
Monday, March 27th: SJ2B House of Books
Tuesday, March 28th: Travelling Birdy
Friday, March 31st: Cindy Burnett
Friday, March 31st: Building Bookshelves