Publisher: Little A / New Harvest (July 2, 2013)
Nate, a mid-level investment banker on Wall Street, and his longtime girlfriend Emily can no longer afford their cramped apartment on Manhattan's Upper East Side. Tired of trying to keep up with their jet-set friends, they jump at a job offer for Nate in Newport, Rhode Island – complete with a bucolic, small, and comparatively affordable new house. They pack their belongings tightly in their Jeep Cherokee and head north to start a new life. Yet less than an hour after arriving in Newport, the car is stolen and they're left with nothing but the keys to their empty house and their bawling ten-month-old son.
THE EXILES: A Novel by Allison Lynn (Amazon Publishing/New Harvest; on sale July 2, 2013; $24.00) chronicles the next three days in Newport when Nate and Emily are confronted by the trappings of the life they tried to leave behind. As they watch their cash dwindle and tension increase, the secrets they kept from each other in the city emerge and threaten to destroy their relationship. Nate, the son of a famous architect, is forced to confront his family's past while Emily finds herself reckoning with a future that may not live up to her conception of it.
THE EXILES bravely explores how well we know those we love and whether or not a fresh start is possible. It's an enthralling story about losing it all, the complexities of family histories, tainted gene pools, art theft, architecture, and the mad grab for the American Dream.
"With beguiling wit and tenderness, and the narrative confidence of a true storyteller, Allison Lynn pulls us deep into the hearts and minds of a young couple caught up in a high-risk tangle of money, morality, and mortality."  —Hillary Jordan, author of When She Woke and Mudbound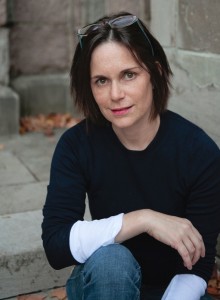 About Allison Lynn
Allison Lynn is the author of the novel Now You See It, which won awards from both the Pirate's Alley Faulkner Society and the Bronx Council on the Arts. Her writing has appeared in the New York Times Book Review, People,  and elsewhere. She teaches at Butler University in Indianapolis, where she lives with her husband, the writer Michael Dahlie, and their son.
.
.
.
.
Allison Lynn's TLC Book Tours TOUR STOPS:
Monday, July 8th:  A Bookish Way of Life
Tuesday, July 9th:  Life, Love, & Books
Monday, July 15th:  Jenn's Bookshelves
Monday, July 15th:  Lit and Life
Tuesday, July 16th:  The 3 R's Blog
Wednesday, July 17th:  Book Club Classics!
Thursday, July 18th:  BookNAround
Friday, July 19th:  Patricia's Wisdom
Monday, July 22nd:  Dolce Bellezza
Tuesday, July 23rd:  The Blog of Litwits
Wednesday, July 24th:  The Best Books Ever
Thursday, July 25th:  A Bookish Affair
Friday, July 26th:  Read Lately
Monday, July 29th:  WV Stitcher
Tuesday, July 30th:  Books a la Mode – Author guest post
Wednesday, July 31st:  Tiffany's Bookshelf
Saturday, August 3rd:  Regular Rumination