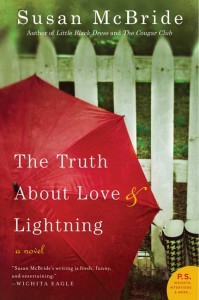 About The Truth About Love and Lightning
• Paperback: 336 pages
• Publisher: William Morrow Paperbacks; Original edition (February 12, 2013)
The Truth About Love and Lighting is a deliciously emotional story of family, forgiveness, love, and magic from Susan McBride.
A lie that Gretchen Brink told 40 years ago comes back to haunt her when a tornado brings together Sam, a mysterious man who can't remember anything, and Abby, her newly pregnant daughter who is convinced Sam is her long-lost father. Though decades old, when Gretchen's secrets are revealed, the ramifications will affect them all in ways they never could have imagined.
A mesmerizing study of family and love, The Truth About Love and Lightning is touching and observant, reminding us that we never know when our lives are on the precipice of change.
About Susan McBride
Susan McBride is the author of women's fiction, including The Truth About Love and Lightning, Little Black Dress, and The Cougar Club, as well as the award-winning Debutante Dropout Mysteries. She calls herself an "accidental cougar" after meeting a man nine years younger in 2005 when she was a St. Louis Magazine "top single." They were married in February 2008 and live happily ever after in a suburb of St. Louis. She is a six-year breast cancer survivor and often speaks to women's groups about her experience. In January 2012, she was named one of St. Louis' "Most Dynamic People of the Year" by the Ladue News. In April 2012, she was given the "Survivor of the Year" Award by the St. Louis affiliate of Susan G. Komen for the Cure. In late June of 2012, Susan and her husband, Ed, had their first child, Emily. As Susan likes to say, "Life is never boring!"
Visit Susan at her website, susanmcbride.com.
Susan's Tour Stops
Tuesday, February 12th: Kritters Ramblings
Wednesday, February 13th: Jenn's Bookshelves
Friday, February 15th: A Cozy Reader's Corner
Monday, February 18th: A Chick Who Reads
Tuesday, February 19th: Tiffany's Bookshelf
Wednesday, February 20th: Proud Book Nerd
Thursday, February 21st: Always With a Book
Monday, February 25th: A Novel Review
Wednesday, February 27th: BookNAround
Friday, March 1st: The Book Bag
Monday, March 4th: 5 Minutes For Mom
Friday, March 8th: My Bookshelf