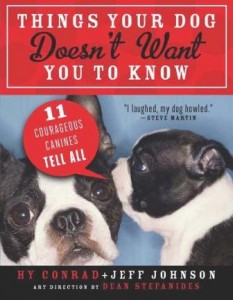 About Things Your Dog Doesn't Want You To Know
• Paperback: 240 pages
• Publisher: Sourcebooks (April 1, 2012)
PRAISE
"A whimsical delight for dog lovers everywhere, this book will charm and remind readers why they fell in love with Rover to begin with." (Publishers Weekly Starred Review)
 "I laughed, my dog howled." (Steve Martin)
"This is the perfect book for anyone who owns a dog, has ever owned one, or knows what a dog is. These guys made me laugh out loud—and captured my heart at the same time. The book is simply irresistible." (Tony Shalhoub, star of the TV series Monk)
ABOUT THE BOOK
Things Your Dog Doesn't Want You to Know answers the questions that dog owners have asked for centuries. The book is a collection of 115 humorous essays that reveal the truth behind some of the most baffling canine behavior, their hopes and dreams, their grudges and pleasures, and what they really think about us humans.  Peppered with lively, clever stories and visually appealing photographs, Things Your Dog Doesn't Want You to Know is a verbal and visual delight that is laugh-out-loud funny.  If you have dogs, love dogs, or have ever been baffled by a dog, this book is a must-have.
Topics include:
My Life in Your Purse by Tinkerbell, the Chihuahua
Waiting by the Table (for food scraps, of course!) by Orson, the bulldog
The Bed Rules (Rule #1—It's my bed) by Dimples, the boxer
The Reason I Ate the Sofa (leather tastes a lot like rawhide) by Axelrod, the yellow lab
I Can Poop the Second I Start My Walk (but choose not to) by Sophie, the cocker spaniel
Things Your Dog Doesn't Want You to Know is available at Amazon, Barnes & Noble, Indigo, Target, on e-books and at independent bookstores everywhere.  For more information, go to www.ThingsYourDog.com where you can also ask questions about your own dog's behavior and learn the secrets they have been keeping from you!
About the Authors
HY CONRAD
Best known for his work in mysteries, Hy was one of the original writers for the groundbreaking series, Monk, working on the show for all eight seasons, the final two as Co-Executive Producer. In a related project, Hy was Executive Producer and head writer of Little Monk, a series of short films featuring Adrian Monk as a ten-year-old.  His latest TV work was as writer and Consulting Producer for White Collar.
Hy is also the author of hundreds of short stories and ten books of short whodunits, which have been sold around the world in fourteen languages.  Hy's first mystery novel series, Abel Adventures, will debut in 2012 with the publication of Rally 'Round the Corpse.  And his first full-length comedy/mystery play, Home Exchange, premiered at the Waterfront Playhouse in May 2012.  He lives in Key West and Vermont with his partner and two miniature schnauzers. (www.hyconrad.com)
JEFF JOHNSON
Jeff spent most of his working life in advertising agencies, currently as General Manager of Cramer-Krasselt in New York City.  He is the author of The Hourglass Solution:  A Boomer's Guide to the Rest of Your Life and co-authors (with Paula Forman) a national online advice column called Short Answers, which also appears in newspapers all along the east coast (from Massachusetts to Florida).  Jeff lives in Vermont and Key West and is on the Board of Directors of the Waterfront Playhouse and the Florida Keys SPCA.
Tour Stops
Tuesday, October 2nd: Peppermint PhD
Wednesday, October 3rd: 4 The Love of Animals
Thursday, October 4th: Kritters Ramblings
Monday, October 8th: Mockingbird Hill Cottage
Tuesday, October 9th: A Heartbeat at My Feet
Thursday, October 11th: notes from a dog walker
Tuesday, October 16th: Dog is God in reverse
Wednesday, October 17th: Book Hooked Blog
Thursday, October 18th: Book Dilettante
Monday, October 22nd: Our Waldo Bungie
Tuesday, October 23rd: Savvy Verse & Wit
Wednesday, October 24th: Something Wagging This Way Comes
Thursday, October 25th: 24 Paws of Love
Friday, October 26th: A blog from the dog house
Monday, October 29th: Dog Foster Mom
Wednesday, October 31th: Rescued Insanity
Thursday, November 1st: Books & Things
Friday, November 2nd: Mr. & Mrs. & Nola Kisses
Monday, November 5th: Proud Book Nerd