We have three fantastic books in our
Book Club of the Month Contest for September!
A love story that defies the bounds of time and space..
Book clubs will love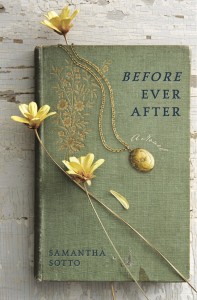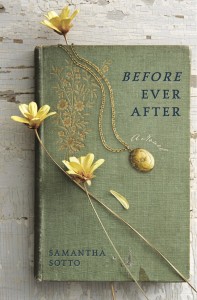 Before Ever After by Samantha Sotto
What if 'til death do us part meant more than you could ever know? In Samantha Sotto's debut novel BEFORE EVER AFTER (Crown Trade: Aug. 2, 2011), you'll find a love story that defies the bounds of time and space to redefine our notion of forever.
Shelley Gallus' happy ending abruptly ended three years ago when her husband Max died. She has settled into life as a widow, braving Sunday mornings alone with a cup of Jasmine tea and a poor imitation of Max's famous baked eggs and cheese, until her fragile recovery is shattered one morning when the doorbell rings. On her doorstep she finds handsome young Paolo, who bears not only an uncanny resemblance to her late husband but some unbelievable news: Max is alive!
Shelley would be overjoyed by the words she has been longing for if not for two small details. First, Max was blown to bits by a Madrid subway bomb. And second, Paolo claims to be her 32-year-old husband's 32-year-old grandson. Still, the single spark of hope that she could be reunited with the love of her life is all Shelley needs to launch her across the globe with Paolo in search of Max.
During their journey, Shelley is preoccupied with memories of "The Slight Detour," the budget European tour package where she met and fell in love with her tour guide husband. Reality descends as Shelley begins to realize that Max's vivid stories of bloody Parisian rebellions, medieval Austrian monasteries, and doomed Venetian cities may not have been stories at all.
Shelley had always believed her marriage was the stuff of fairy tales. But when fantasy collides hard with reality, and she and Paolo come closer to discovering the truth about Max, Shelley faces an agonizing leap of faith before she can have her happily ever after.
"A smartly written romance, mystery and historical adventure all wrapped up in a page-turner that will have you guessing until the very end. I could not stop thinking about it."  —Adena Halpern, author of The Ten Best Days of My Life
"First-time author Sotto's lush literary gifts draw one in to the terrible beauty of her tale of immortality." —Library Journal
The winning book club will also win a phone or Skype call from the author!
_______________________________________________________________________
Is keeping a secret from a spouse always an act of infidelity? And what cost does such a secret exact on a family?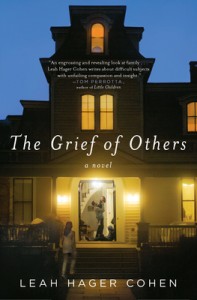 "How does a family transcend its own pain? How do the secrets we keep shape our lives and the lives of those we love? In this gracefully written, elegantly structured novel, Leah Hager Cohen has created an indelible cast of characters whose story is at once wrenching and redemptive. This is a beautiful book."—Dani Shapiro, author of Family History
The Ryries have suffered a loss: the death of a baby just fifty-seven hours after his birth. Without words to express their grief, the parents, John and Ricky, try to return to their previous lives. Struggling to regain a semblance of normalcy for themselves and for their two older children, they find themselves pretending not only that little has changed, but that their marriage, their family, have always been intact. Yet in the aftermath of the baby's death, long-suppressed uncertainties about their relationship come roiling to the surface. A dreadful secret emerges with reverberations that reach far into their past and threaten their future.
The couple's children, ten-year-old Biscuit and thirteen-year-old Paul, responding to the unnamed tensions around them, begin to act out in exquisitely- perhaps courageously-idiosyncratic ways. But as the four family members scatter into private, isolating grief, an unexpected visitor arrives, and they all find themselves growing more alert to the sadness and burdens of others-to the grief that is part of every human life but that also carries within it the power to draw us together.
Moving, psychologically acute, and gorgeously written, The Grief of Others asks how we balance personal autonomy with the intimacy of relationships, how we balance private decisions with the obligations of belonging to a family, and how we take measure of our own sorrows in a world rife with suffering. This novel shows how one family, by finally allowing itself to experience the shared quality of grief, is able to rekindle tenderness and hope.
_______________________________________________________________________
Friendship, betrayal, forgiveness
Book clubs will find much to discuss in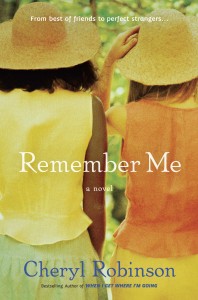 What happens when the loyalty that defines the friendship of two women is tested? For Mia and Danielle, finding the answer takes a lifetime…
Mia Marks is a black girl from inner-city Detroit with an eye for the hottest fashions and a penchant for the good life. Danielle King is a suburban white girl with artistic ambitions. When a series of circumstances thrust Danielle and Mia together their freshman year at an all-girls Catholic high school, neither expects to form a deep bond that transcends race and background, and lasts for years. And neither could have anticipated the one indiscretion that destroyed it forever.
Twenty years later, Danielle is a successful novelist living in Miami. Mia is a school teacher in Detroit. But they're still on common ground–both unhappily married and raising teenage daughters, and both far too proud to make the first move and reconnect. Until tragedy brings them back together in the most unexpected way. Now they must confront the past, discover its untold truths, and learn to survive the increasing complexities of their lives, and a friendship destined to endure.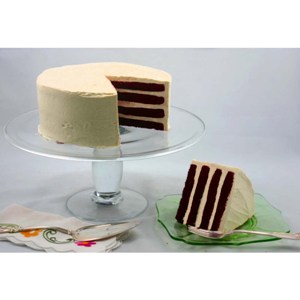 The winning book club will win a beautiful four layer Red Velvet Cake from Caroline's Cake, www.carolinescakes.com , as seen on The Today Show!
________________________________________________________________________________________________________

Please fill out our super-short registration form (<—–click here!) by September 30th and register to win a set of up to ten copies of  Before Ever After, Remember Me or The Grief of Others for your book club!  We will randomly choose winners at the end of the month.  This contest is open to clubs in the US and Canada only (our apologies to friends in other countries).
Best of luck!
We 
LOVE

Book Clubs!