Enter the World of Adriana Trigiani
We can't get enough of the world of Adriana Trigiani — full of food and fashion.
TLC Book Tours is partnering with HarperCollins to provide 5 bloggers with a chance to have lunch with Adriana Trigiani and experience an abbreviated version of her walking tour of Greenwich Village during Book Expo America (BEA) in New York City in May 2011. You must already be attending BEA to participate. The walking tour will start at 11:00am, with lunch to follow at 12:30pm on Thursday, May 26, 2011 at The Standard Grill.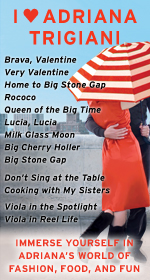 To enter to win, bloggers need to post the badge on the right in their sidebar and do one of two things:
Make a recipe given to you by your grandparents, take a picture of the recipe you made, post about it on your blog, and then post the link on Adriana's Facebook page.
Find the most amazing, gorgeous, and expensive shoes you can find, write a post about the shoes, and then post the link to Adriana's Facebook page.
You can do both options for multiple entries.
We'd love for you to mention your entries on Twitter using #iheartadriana.



You can feature her newest books in your post:
Brava, Valentine which just came out in paperback on November 9, 2010
Don't Sing at the Table which just came out in hardcover on November 9, 2010
Viola in the Spotlight is Adriana's newest YA book and comes out in hardcover April 5, 2011
The contest runs from Wednesday, April 6, 2011 to to Friday, May 6, 2011. At the end of this contest, HarperCollins will randomly choose 5 participants to do the walking tour and have lunch with Adriana Trigiani. Winners will be announced on this site (TLC Book Tours), as well as www.bookclubgirl.com.
Rules for the contest can also be found at the HarperCollins website.