Hardcover: 224 pages
Publisher: Gotham (April 14, 2011)
The pun is commonly dismissed as the lowest form of wit, and punsters are often unpopular for their obsessive wordplay.  But such attitudes are relatively recent developments.  In The Pun Also Rises, John Pollack – a former World Pun Champion  and presidential speechwriter for Bill Clinton – explains why such wordplay is significant: It both revolutionized language and played a pivotal role making the modern world possible.  Skillfully weaving together stories and evidence from history, brain science, pop culture, literature, anthropology, and humor, The Pun Also Rises is an authoritative yet playful exploration of a practice that is common, in one form or another, to virtually every language on earth.
About John Pollack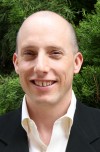 John Pollack is a journalist, author, and former Special Assistant and Presidential Speechwriter to Bill Clinton. He has written for publications such as the Los Angeles Times, USA Today, Advertising Age, and the Associated Press. He was named the World Pun Champion at the 1995 O. Henry World Championship Pun-off and has written speeches for corporate and public-sector leaders such as Jeffrey Katzenberg, Carly Fiorina, John Glenn, David de Rothschild, and actress Goldie Hawn. He currently works as a speechwriter and consultant for ROI Communication, an internal communication consulting firm. He lives in Manhattan.
John Pollack's TLC Book Tours TOUR STOPS:
Thursday, April 14th:  Luxury Reading
Friday, April 15th:  Reading Through Life
Monday, April 18th:  Book Club Classics!
Wednesday, April 20th:  Book Hooked Blog
Thursday, April 21st:  Life is a Patchwork Quilt
Monday, April 25th:  The Broke and the Bookish
Tuesday, April 26th:  Rundpinne
Wednesday, April 27th:  It's All About Books
Thursday, April 28th: eclectic/eccentric
Friday, April 29th:  In the Next Room – review
Friday, April 29th:  In the Next Room – guest post
Wednesday, May 4th:  Booksnob
Wednesday, May 4th:  Chaotic Compendiums
Monday, May 9th:  Man of La Book
Wednesday, May 11th:  Library of Clean Reads and NoveauWriter
Friday, May 13th:  SparksMarks