About The Samaritan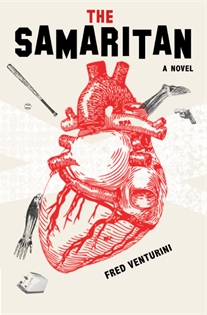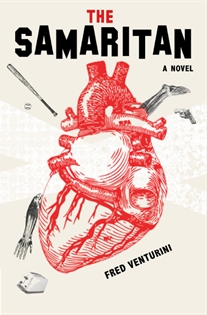 Paperback: 210 pages
Publisher: Blank Slate Press
To age is to embrace a slow hurt inside and out, to collect scars like rings on a tree, dark and weathered and sometimes only visible if someone cuts deep enough. Scars keep the past just close enough to touch, but healing is forgetting. Healing invites another cut.  Healing is the tide that smoothes away our line in the sand.  For life to begin, the damage must be permanent.
– Dale Sampson, The Samaritan
Dale Sampson is a nobody. A small town geek who lives in the shadow of his best friend, the high school baseball star, it takes him years to even gather the courage to actually talk to a girl. It doesn't go well. Then, just when he thinks there's a glimmer of hope for his love life, he loses everything.
When Dale runs into the twin sister of the girl he loved and lost, he finds his calling–he will become a samaritan. Determined to rescue her from a violent marriage, and redeem himself in the process, he decides to use the only "weapon" he has–besides a toaster. His weapon, the inexplicable ability to regenerate injured body parts, leads him to fame and fortune as the star of a blockbuster TV reality show where he learns that being The Samaritan is a heartbreaking affair. Especially when the one person you want to save doesn't want saving.
The Samaritan is a brutally funny look at the dark side of human nature. It lays bare the raw emotions and disappointments of small town life and best friends, of school bullies and first loves, of ruthless profiteers and self-aggrandizing promoters—and of having everything you know about human worth and frailty questioned under the harsh klieg lights of fame.
About Fred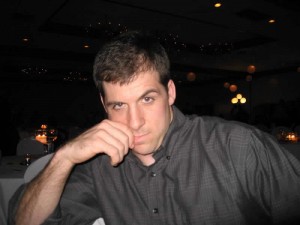 Fred Venturini received a B.S. in English from MacMurray College in 2002, and an MFA from Lindenwood University in 2009.  He has 19 short stories published or due to be published.
From tightly woven horror and unmitigated creepiness, to evocative literary fiction, with a few auto restorer hints thrown in for good measure, Fred's gift for pacing and clarity-and for getting under your skin-is powerful.
Blank Slate Press is delighted to feature Fred Venturini as one of our two flagship authors.
Fred Venturini's TLC Book Tours TOUR STOPS:
Thursday, March 3rd:  Bewitched Bookworms review
Monday, March 7th:  Bewitched Bookworms guest post
Wednesday, March 9th:  Supernatural Snark
Thursday, March 10th:  Reading with Martinis
Monday, March 14th:  Wordsmithonia
Wednesday, March 16th:  Pensive Bookeaters review and author guest post
Thursday, March 17th:  Rex Robot Reviews
Friday, March 18th:  Fiction State of Mind
Monday, March 21st:  Musings of an All Purpose Monkey
Tuesday, March 22nd:  The Ranting Dragon
Wednesday, March 23rd:  JoJo's Book Corner author guest post
Wednesday, March 23rd:  JoJo's Book Corner review
Thursday, March 24th:  Hanging with Bells
Monday, March 28th:  Pornokitsch