Everyone else is doing it. It's lies like this one that often get young women, particularly ages 10 to 20, to put aside their own nagging thoughts about what is right—and wrong—and make choices they might regret long-term. Boys Lie is a collection of the most common untruths proliferated by boys and an assessment of the exaggerations and misinformation behind them.
Written by an expert with years of clinical experience with thousands of teens, Boys Lie is the first sexual and social health book of its kind. Based on a large national survey, this timely guide sets the record straight on what guys lie about, arming girls with straightforward advice that is understandable, concise, and totally relatable. And while the title may seem anti-boy, it's more like pro-girl, helping to foster healthier relationships between the sexes.
Boys Lie unearths:
The top lies boys tell including 'I won't show anyone these pictures' and 'I won't tell anyone'
How technology such as texting and social networking are changing the game, making girls more vulnerable to their male peers and the public at large
Case studies, true stories, and quizzes that shed light on pertinent issues in a teen-friendly way.
How to cultivate a healthy skepticism in young girls that will empower them to say 'no'
.
About the authors:
Belisa Vranich, Psy.D., is a renowned clinical psychologist, author, and public speaker who specializes in women's health issues. She is a regular guest on CNN, The Today Show, Good Morning America, Fox, and Inside Edition. She has been interviewed as an expert in hundreds of publications, including Cosmopolitan, Men's Health, AARP, and The New York Post. Dr. Vranich has a decade of experience in developing educational campaigns, presenting, and lecturing nationwide.  She is the co-author of He's Got Potential: A Field Guide to Shy Guys, Bad Boys, Intellectuals, Cheaters, and Everything in Between.  Click HERE to visit Dr. Belisa's website.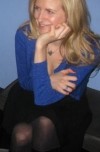 Holly Eagleson is the former features editor for Cosmopolitan and Seventeen, who writes regularly for Seventeen, Glamour, CosmoGirl, Everyday With Rachael Ray, and AOL. She also authored Mirror, Mirror: Discover Your Inner Beauty, a guide for girls 14-17 funded by the Dove Self-Esteem Fund for Girl Scouts of America.
.
.
TLC Book Tours TOUR STOPS for BOYS LIE:
Tuesday, July 6th:  Feminist Review
Thursday, July 8th:  Shooting Stars Mag
Monday, July 12th:  The Brain Lair
Tuesday, July 13th:  Book Junkie
Wednesday, July 14th:  I Swim for Oceans – reschedule
Monday, July 19th:  Suko's Notebook
Tuesday, July 20th:  Simply Stacie
Thursday, July 22nd:  There's A Book
Monday, July 26th:  Write for a Reader
Wednesday, July 28th:  Lovely Undergrad
Monday, August 2nd: La Femme Readers