___________________________
A mother will risk everything to find her missing daughter in this twisty thriller from the author of Girl Gone Mad.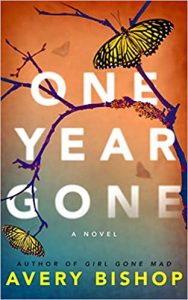 One Year Gone by Avery Bishop
"Sometimes teenagers run away…Give her a few days. She'll be back."
That's what the police tell Jessica Moore when her seventeen-year-old daughter, Wyn, vanishes. All signs point to this being true. But days become weeks. Weeks become months. And Jessica begins to fear the terrible truth?that she may never see her daughter again.
Then, one year later, when all hope seems lost, Jessica gets a flurry of text messages from Wyn that freeze her blood: mom. please help. i think he's going to kill me. But Wyn's terrified plea comes with a warning not to call the police. Her kidnapper wears a badge.
As Jessica's fears are raised again, so are the stakes. Delving into the months leading up to Wyn's disappearance, Jessica stumbles upon information that could put her own life in danger. With each revelation, the nightmare deepens. Now she must decide just how far she'll go to bring her daughter home.

Purchase Links
___________________________
The USA Today bestselling author of When We Believed in Mermaids returns with a tale of two generations of women reconciling family secrets and past regrets.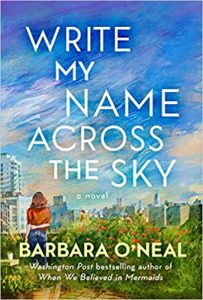 Write My Name Across the Sky by Barbara O'Neal
Life's beautiful for seventysomething influencer Gloria Rose, in her Upper West Side loft with rooftop garden and scores of Instagram followers–until she gets word that her old flame has been arrested for art theft and forgery, and, knowing her own involvement in his misdeeds decades earlier, decides to flee. But that plan is complicated when the nieces she raised are thrown into crises of their own.
Willow, overshadowed by her notorious singer-songwriter mother, has come home to lick her wounds on the heels of a failed album and yet another disastrous relationship. Sam, prickly and fiercely independent, is on the verge of losing not only her beloved video game company but the man she loves, thanks to her inability to keep her always-simmering anger in check.
With the FBI closing in, Willow's career in shambles, and Sam's tribulations reaching a peak, each of the three woman will have to reckon with and reconcile their interwoven traumas, past loves, and the looming consequences that could either destroy their futures or bring them closer than ever.

Purchase Links
___________________________
"A gorgeous, thrilling, and important novel! These strong women will capture your heart."-Stacey Swann, author of Olympus, Texas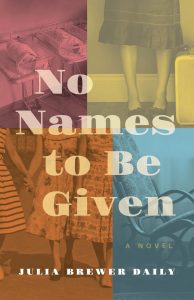 No Names to be Given by Julia Brewer Daily
1965. Sandy runs away from home to escape her mother's abusive boyfriend. Becca falls in love with the wrong man. And Faith suffers a devastating attack. With no support and no other options, these three young, unwed women meet at a maternity home hospital in New Orleans where they are expected to relinquish their babies and return home as if nothing transpired.
But such a life-altering event can never be forgotten, and no secret remains buried forever. Twenty-five years later, the women are reunited by a blackmailer, who threatens to expose their secrets and destroy the lives they've built. That shattering revelation would shake their very foundations-and reverberate all the way to the White House.
Told from the three women's perspectives, this mesmerizing story is based on actual experiences of women in the 1960s who found themselves pregnant but unmarried, pressured by family and society to make horrific decisions. How that inconceivable act changed women forever is the story of No Names to Be Given, a heartbreaking but uplifting novel of family and redemption.
Sign up for Julia's newsletter HERE and receive info on monthly giveaways!

Purchase Links
___________________________
In today's contentious social climate, is it possible to talk to people—whether strangers or friends—about life's deepest and most sensitive topics?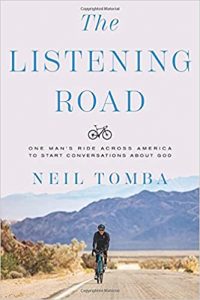 The Listening Road: One Man's Ride Across America to Start Conversations About God by Neil Tomba
The true story of one man's remarkable thirty-three-day journey cycling across the United States on a mission to engage with people from all walks of life in real conversations about things that matter most.
As a pastor, Neil Tomba noticed a disturbing trend among people in church: they were finding it increasingly difficult to talk about God to those outside of the church. Neil wanted to practice what he preached, so he set out to bike across the United States, talking—and, more importantly, listening—to strangers from all walks of life about faith, their stories, and matters of the heart.
The Listening Road takes us on Neil's remarkable journey across the country and straight into its soul—from Route 66 motels to state parks, a lake house, and a railway car; from conversations with Amish farmers to chats with truckers, cowboys, mechanics, and a descendant of Daniel Boone. From one city, farm, and highway to the next, we discover
practical ways to change our posture toward others to foster conversation,
why curiosity, kindness, and respect open up communication about God, and
how even in a culture of division and antagonism, real connection is possible.
In our polarizing time, Neil models with compassion and curiosity that genuine connection happens if only we are willing to listen in love.

Purchase Links
___________________________
Bestselling author and pastor Chris Hodges helps those struggling with depression find liberating solutions by drawing from the life of the prophet Elijah.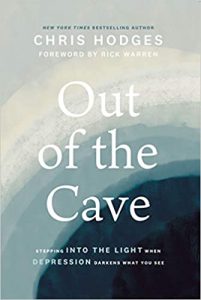 Out of the Cave: Stepping Into the Light When Depression Darkens What You See by Chris Hodges
Bestselling author and pastor Chris Hodges helps those struggling with depression find liberating solutions by drawing from the life of the prophet Elijah.
Shame about the dark thoughts swirling in your mind. Guilt about how powerless you feel to overcome negative emotions. Alternating bouts of sadness and numbness. You might be asking, Should a Christian even be having these struggles?
Depression is the number one health issue in the world today, yet those who suffer are still sometimes stigmatized–especially followers of Jesus. Many assume God's peace, power, and protection should prevent us from ever feeling anxious, depressed, and afraid. But the Bible teaches otherwise, particularly in its depiction of the life of the Old Testament prophet Elijah.
In Out of the Cave, bestselling author and pastor Chris Hodges uses Elijah's life to show us that everyone is susceptible to depression. Even when we're walking closely with God, we can still stumble and get lost in the wilderness of tangled emotions. But we don't have to stay there, because we serve a God who meets us in the darkness. Out of the Cave helps us
remove the stigma of depression and realize we're not alone;
understand the ways our temperament and view of God affect the way we handle depression; and
learn a comprehensive approach to wellness—mind, body, and soul—from Elijah's journey.
With his trademark blend of Bible-based wisdom, practical application, and vulnerability in sharing his personal struggles, Hodges explores the causes of depression we can't change, the contributors we can conquer, and offers transformative hope and spiritual power to help us win the battle.
Please click HERE for free OUT OF THE CAVE resources.

Purchase Links
___________________________

Please fill out our super short registration form (click the "Enter Now" button above) by August 31st for a chance to win a set of up to ten copies of one of these great books for your book club! We will randomly choose a winner at the end of the month. This giveaway is open to clubs in the US only (our apologies to friends in other countries). 
Best of luck!
We 
LOVE

 Book Clubs!