Hardcover:
Publisher: Lake Union Publishing (July 1, 2021)
Two moms as opposite as a Happy Meal and a quinoa bowl. What a difference a week makes in a heartfelt, laugh-out-loud novel by the Washington Post bestselling author of The Overdue Life of Amy Byler.
Celeste Mason is the Pinterest stay-at-home supermom of other mothers' nightmares. Despite her all-organic, SunButter-loving, free-range kids, her immaculate home, and her volunteering awards, she still has time to relax with a nice glass of pinot at the end of the day. The only thing that ruins it all is her workaholic, career-obsessed neighbor, who makes no secret of what she thinks of Celeste's life choices every chance she gets.
Wendy Charles is a celebrated productivity consultant, columnist, and speaker. On a minute-by-minute schedule, she makes the working-mom hustle look easy. She even spends at least one waking hour a day with her kids. She's not apologizing for a thing. Especially to Celeste, who plays her superior parenting against Wendy whenever she can.
Who do Celeste and Wendy think they are? They're about to find out thanks to one freaky week. After a neighborhood potluck and too much sangria, they wake up– um, what?? –in each other's bodies. Everything Celeste and Wendy thought they knew about the "other kind of mom" is flipped upside down–along with their messy, complicated, maybe not so different lives.

Purchase Links
About Kelly Harms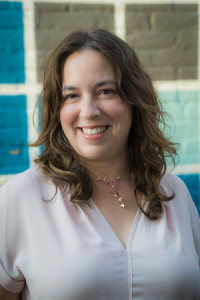 Kelly Harms is an author, a mother, and a big dreamer. She lives in Madison, Wisconsin, with her sparkling son, Griffin; her fluffy dog, Scout; and her beloved Irishman, Chris. Before this midwestern life, she lived in New York, New York, and worked with many of her author-heroes as an editor at HarperCollins and then as a literary agent. When she's not lost in a book that she's either writing or reading, you can find her on the water, in the water, or near the water. Say hello anytime at www.kellyharms.com.
Connect with Kelly
Instagram:
Wednesday, June 30th: @itsbibliotherapy
Thursday, July 1st: @rickys_radical_reads
Thursday, July 1st: @lifeinlit
Friday, July 2nd: @mommaleighellensbooknook
Friday, July 2nd: @brianas_best_reads
Saturday, July 3rd: @girlsinbooks
Monday, July 5th: @audreyoakesreadseverything
Wednesday, July 7th: @always_reading1
Thursday, July 8th: @nsiabblog
Friday, July 9th: @workreadsleeprepeat
Saturday, July 10th: @welovebigbooksandwecannotlie
Sunday, July 11th: @irishgirliereads
Monday, July 12th: @hannah_reads
Tuesday, July 13th: @lovelyplacebooks
Reviews:
Thursday, July 1st: Not in Jersey and @notinjersey
Friday, July 2nd: @suethebookie
Monday, July 5th: @bookapotamus
Wednesday, July 7th: Mom Loves Reading and @mom_loves_reading
Wednesday, July 7th: @bookishwithwine
Thursday, July 8th: @bryantparkbooks
Friday, July 9th: @rachellelovesbooks
Saturday, July 10th: @backporchpages
Monday, July 12th: @nurse_bookie
Tuesday, July 13th: @mrs._laura_lit
Wednesday, July 14th: @readingwithremy
Thursday, July 15th: @thebookscript
Thursday, July 15th: @twintasticbooks
Friday, July 16th: She Just Loves Books and @shejustlovesbooks
Saturday, July 17th: @booksloveandunderstanding
Monday, July 19th: @moonlight_rendezvous
Thursday, July 22nd: @pocketsized_pageturner
Monday, July 26th: Books and Bindings
Saturday, July 31st: @crystals_library