About The Talented Miss Farwell
• Hardcover: 352 pages
• Publisher: Custom House (September 29, 2020)
"Becky Farwell is one of the most wickedly compelling characters I've read in ages — a Machiavellian marvel, a modern Becky Sharp, a character to root for despite your better judgment — and her story, both topical and timeless, will knock you off your feet." — Rebecca Makkai, author of The Great Believers
Catch Me If You Can meets Patricia Highsmith in this electrifying page-turner of greed and obsession, survival and self-invention that is a piercing character study of one unforgettable female con artist.
At the end of the 1990s, with the art market finally recovered from its disastrous collapse, Miss Rebecca Farwell has made a killing at Christie's in New York City, selling a portion of her extraordinary art collection for a rumored 900 percent profit. Dressed in couture YSL, drinking the finest champagne at trendy Balthazar, Reba, as she's known, is the picture of a wealthy art collector. To some, the elusive Miss Farwell is a shark with outstanding business acumen. To others, she's a heartless capitalist whose only interest in art is how much she can make.
But a thousand miles from the Big Apple, in the small town of Pierson, Illinois, Miss Farwell is someone else entirely—a quiet single woman known as Becky who still lives in her family's farmhouse, wears sensible shoes, and works tirelessly as the town's treasurer and controller.
No one understands the ins and outs of Pierson's accounts better than Becky; she's the last one in the office every night, crunching the numbers. Somehow, her neighbors marvel, she always finds a way to get the struggling town just a little more money. What Pierson doesn't see—and can never discover—is that much of that money is shifted into a separate account that she controls, "borrowed" funds used to finance her art habit. Though she quietly repays Pierson when she can, the business of art is cutthroat and unpredictable.
But as Reba Farwell's deals get bigger and bigger, Becky Farwell's debt to Pierson spirals out of control. How long can the talented Miss Farwell continue to pull off her double life?
Social Media
Please use the hashtag #thetalentedmissfarwell, and tag @tlcbooktours, @customhousebooks, and @egtedrowe.

Purchase Links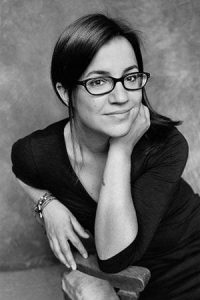 About Emily Gray Tedrowe
Emily Gray Tedrowe is the author of two previous novels, BLUE STARS and COMMUTERS. She earned a PhD in literature from New York University and a BA from Princeton University. She has received an Illinois Arts Council award as well as fellowships from the Ragdale Foundation, Virginia Center for the Creative Arts, and the Sewanee Writers' Conference. A frequent book reviewer for USA Today and other publications, Tedrowe also writes essays, interviews, and short stories. She lives in Chicago, Illinois.
Find out more about Tedrowe at her website, and connect with her on Twitter and Instagram.
Instagram Features
Tuesday, September 29th: Instagram: @readitandquip
Wednesday, September 30th: Instagram: @notinjersey
Thursday, October 1st: Instagram: @shejustlovesbooks
Friday, October 2nd: Instagram: @sweethoneyandbrei
Saturday, October 3rd: Instagram: @reallyintothis
Sunday, October 4th: Instagram: @k2reader
Sunday, October 4th: Instagram: @shereadswithcats
Monday, October 5th: Instagram: @the.magicalpages
Tuesday, October 6th: Instagram: @readwithjamie
Wednesday, October 7th: Instagram: @downtogetthefictionon