___________________________
In this provocative, wildly entertaining, and compelling novel, seven women enrolled in an extreme weight loss documentary discover self-love and sisterhood as they enact a daring revenge against the exploitative filmmakers.

Waisted by Randy Susan Meyers
Alice and Daphne, both successful and accomplished working mothers, harbor the same secret: obsession with their weight overshadows concerns about their children, husbands, work—and everything else of importance in their lives. Scales terrify them.
Daphne, plump in a family of model-thin women, learned only slimness earns admiration at her mother's knee. Alice, break-up skinny when she met her husband, risks losing her marriage if she keeps gaining weight.
The two women meet at Waisted. Located in a remote Vermont mansion, the program promises fast, dramatic weight loss, and Alice, Daphne, and five other women are desperate enough to leave behind their families for this once-in-a-lifetime opportunity. The catch? They must agree to always be on camera; afterward, the world will see Waisted: The Documentary.
The women soon discover that the filmmakers have trapped them in a cruel experiment. With each pound lost, they edge deeper into obsession and instability…until they decide to take matters into their own hands.

Purchase Links
___________________________
Oceans and decades apart, two women are inextricably bound by the secrets between them.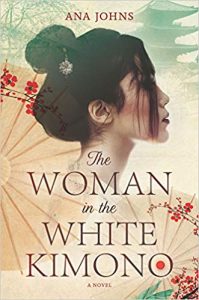 The Woman in the White Kimono by Ana Johns
Japan, 1957. Seventeen-year-old Naoko Nakamura's prearranged marriage to the son of her father's business associate would secure her family's status in their traditional Japanese community, but Naoko has fallen for another man—an American sailor, a gaijin—and to marry him would bring great shame upon her entire family. When it's learned Naoko carries the sailor's child, she's cast out in disgrace and forced to make unimaginable choices with consequences that will ripple across generations.
America, present day. Tori Kovac, caring for her dying father, finds a letter containing a shocking revelation—one that calls into question everything she understood about him, her family and herself. Setting out to learn the truth behind the letter, Tori's journey leads her halfway around the world to a remote seaside village in Japan, where she must confront the demons of the past to pave a way for redemption.
In breathtaking prose and inspired by true stories from a devastating and little-known era in Japanese and American history, The Woman in the White Kimono illuminates a searing portrait of one woman torn between her culture and her heart, and another woman on a journey to discover the true meaning of home.

Purchase Links
___________________________
For readers of Eleanor Oliphant Is Completely Fine, debut author Suzy Krause delivers a quirky, colorful story about love, loss, second chances, and what it means to truly live.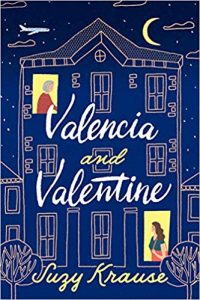 Valencia and Valentine by Suzy Krause
Valencia, a timid debt collector with crippling OCD, is afraid of many things, but the two that scare her most are flying and turning thirty-five. To confront those fears, Valencia's therapist suggests that she fly somewhere—anywhere—before her upcoming birthday. And as Valencia begins a telephone romance with a man from New York, she suddenly has a destination in mind. There's only one problem—he might not actually exist.
Mrs. Valentine is an eccentric old woman desperate for company, be it from neighbors, telemarketers, or even the funeral director (when you're her age, you go to a lot of funerals). So she's thrilled when the new cleaning girl provides a listening ear for her life's story—a tale of storybook love and incredible adventures around the world with her husband before his mysterious and sudden disappearance.
The stories of Valencia and Mrs. Valentine may at first appear to have nothing in common…but then again, nothing in life is as straightforward as it seems.

Purchase Links
___________________________
Stay calm, keep smiling, and watch your step. In this marriage of secrets and lies, nothing is what it seems.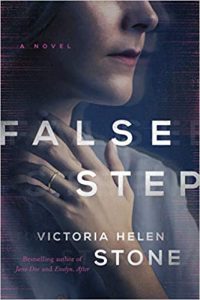 False Step by Victoria Helen Stone
For days, all of Denver, Colorado, has worried over the fate of a missing child, little Tanner Holcomb. Then, a miracle: handsome, athletic Johnny Bradley finds him, frightened but unharmed, on a hiking trail miles from his wealthy family's mountain home.
In a heartbeat, his rescuer goes from financially strapped fitness trainer to celebrated hero. The heat of the spotlight may prove too much for Johnny's picture-perfect family, however. His wife, Veronica, despises the pressure of the sudden fame, afraid that secrets and bitter resentments of her marriage may come to light. And she's willing to do anything to keep them hidden.
But when a shocking revelation exposes an even darker side to Tanner's disappearance, Veronica realizes that nothing in her life can be trusted. And everything should be feared.

Purchase Links
___________________________

Please fill out our super short registration form (click the "Enter Now" button above) by June 30th for a chance to win a set of up to ten copies of one of these great books for your book club! We will randomly choose a winner at the end of the month. This giveaway is open to clubs in the US only (our apologies to friends in other countries). 
Best of luck!
We 
LOVE

 Book Clubs!