Series: A Wrexford & Sloane Mystery (Book 4)
Hardcover: 304 pages
Publisher: Kensington (September 29, 2020)
The murder of a shipping clerk . . . the strange disappearance of trusted friends . . . rumors of corruption within the powerful East India Company . . . all add up to a dark mystery entangling Lady Charlotte Sloane and the Earl of Wrexford in a dangerous web of secrets and lies that will call into question how much they really know about the people they hold dear—and about each other . . .
 
When Lady Cordelia, a brilliant mathematician, and her brother, Lord Woodbridge, disappear from London, rumors swirl concerning fraudulent bank loans and a secret consortium engaged in an illicit—and highly profitable—trading scheme that threatens the entire British economy. The incriminating evidence mounts, but for Charlotte and Wrexford, it's a question of loyalty and friendship. And so they begin a new investigation to clear the siblings' names, uncover their whereabouts, and unravel the truth behind the whispers.
As they delve into the murky world of banking and international arbitrage, Charlotte and Wrexford also struggle to navigate their increasingly complex feelings for each other. But the clock is ticking—a cunning mastermind has emerged . . . along with some unexpected allies—and Charlotte and Wrexford must race to prevent disasters both economic and personal as they are forced into a dangerous match of wits in an attempt to beat the enemy at his own game.

Purchase Links
About Andrea Penrose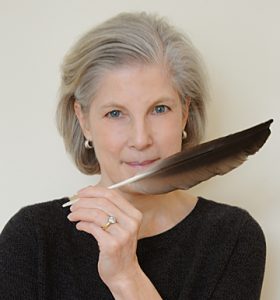 Andrea Penrose is the bestselling author of Regency-era historical fiction, including the acclaimed Wrexford & Sloane mystery series, as well as Regency romances written under the names Cara Elliott and Andrea Pickens. Published internationally in ten languages, she is a three-time RITA Award finalist and the recipient of numerous writing awards, including two Daphne Du Maurier Awards for Historical Mystery and two Gold Leaf Awards. A graduate of Yale University with a B.A. in Art and an M.F.A. in Graphic Design, Andrea fell in love with Regency England after reading Pride and Prejudice and has maintained a fascination with the era's swirling silks and radical new ideas throughout her writing career. She lives in Connecticut and blogs with a community of historical fiction authors at WordWenches.com. She also can be found at AndreaPenrose.com and on Instagram @AndreaPenroseBooks.
Connect with Andrea
Instagram tour:
Monday, September 28th: @books_faith_love
Monday, September 28th: @pnwbookworm
Tuesday, September 29th: @shejustlovesbooks
Wednesday, September 30th: @lowkey.bookish
Thursday, October 1st: @rendezvous_with_reading
Friday, October 2nd: @elysa_reads
Saturday, October 3rd: @nurse_bookie
Sunday, October 4th: @bookclubwithbite
Monday, October 5th: @kara.bookstagram
Tuesday, October 6th: @booksandbackroads
Tuesday, October 6th: @thelit_bitch_
Wednesday, October 7th: @whimsicalyme
Thursday, October 8th: @crystals_library