Join us for an Instagram tour for
Hardcover: 336 Pages
Publisher: Roaring Brook Press (April 30, 2019)
A heartrending story of art, love, grief, and color.
Minnie Sloe and her sisters have weathered it all together-growing up without fathers, living an eccentric lifestyle with a pet rabbit named Salvador Dali, and riding out their famous artist mother's mental highs and lows.
But then their mother disappears, and Minnie, who was supposed to follow in her footsteps, starts seeing the world in monochrome. Literally. How can she create when all she sees is black-and-white?
As grief threatens to tear the three sisters apart, Minnie fears she could lose everything: her family, her future, her first love . . . and maybe even her mind.
Harriet Reuter Hapgood's beautiful writing radiates with color in How to be Luminous, a lyrical and engrossing story about the aftermath of tragedy and the power of self-belief and love.

Purchase Links
About Harriet Reuter Hapgood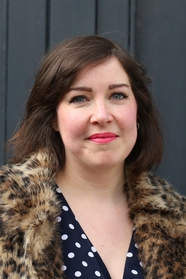 Harriet Reuter Hapgood is a freelance journalist who has worked with Marie Claire, ELLE, and InStyle in the U.K. Her debut novel, The Square Root of Summer, was inspired by her German mathematician grandfather and her lifelong obsession with YA romance, which includes an MA thesis on Dawson's Creek from London College of Fashion, and a dissertation on romantic comedies at Newcastle University. She lives in Brighton, England.
Connect with Harriet
Instagram tour:
Monday,  March 25th: @theliteraryllama
Tuesday, March 26th: @bookswrotemystory
Tuesday, March 26th: @amanda.the.bookish
Wednesday, March 27th: @_forevermint
Thursday, March 28th: @bookishconnoisseur
Friday, March 29th: @thegraduatedbookworm
Saturday, March 30th: @readforevermore
Sunday, March 31st: @_ebl_inc_
Monday, April 1st: @lovelyreadergirl
Wednesday, April 3rd: @dropandgivemenerdy
Thursday, April 4th: @fromlibrarywithlove
TOUR REPLAY: @TLCBookTours