Hardcover: 384 pages
Publisher: Random House (September 24, 2013)
Written with the riveting storytelling and moral seriousness of authors like Emma Donoghue, Adam Johnson, Ann Patchett, and Curtis Sittenfeld, Cartwheel is a suspenseful and haunting novel of an American foreign exchange student arrested for murder, and a father trying to hold his family together.
 
When Lily Hayes arrives in Buenos Aires for her semester abroad, she is enchanted by everything she encounters: the colorful buildings, the street food, the handsome, elusive man next door. Her studious roommate Katy is a bit of a bore, but Lily didn't come to Argentina to hang out with other Americans.
Five weeks later, Katy is found brutally murdered in their shared home, and Lily is the prime suspect. But who is Lily Hayes? It depends on who's asking. As the case takes shape—revealing deceptions, secrets, and suspicious DNA—Lily appears alternately sinister and guileless through the eyes of those around her: the media, her family, the man who loves her and the man who seeks her conviction. With mordant wit and keen emotional insight, Cartwheel offers a prismatic investigation of the ways we decide what to see—and to believe—in one another and ourselves.
In Cartwheel, duBois delivers a novel of propulsive psychological suspense and rare moral nuance. No two readers will agree who Lily is and what happened to her roommate. Cartwheel will keep you guessing until the final page, and its questions about how well we really know ourselves will linger well beyond.
A pick for The Millions' Most Anticipated Books of 2013
"Jennifer duBois, a writer whose fierce intelligence is matched only by her deep humanity, hits us with a marvelous second novel that intertwines a gripping tale of murder abroad with an intimate story of family heartbreak. Every sentence crackles with wit and vision. Every page casts a spell."—Maggie Shipstead, New York Times bestselling author of Seating Arrangements

"Cartwheel is so gripping, so fantastically evocative, that I could not, would not, put it down. Jennifer duBois is a writer of thrilling psychological precision. She dares to pause a moment, digging into the mess of crime and accusation, culture and personality, the known and unknown, and coming up with a sensational novel of profound depth."—Justin Torres, New York Times bestselling author of We the Animals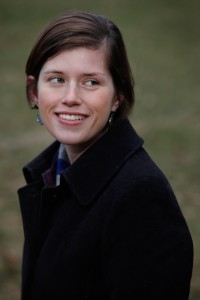 About Jennifer duBois
Jennifer duBois's A Partial History of Lost Causes was one of the most acclaimed debuts of recent years. It was a finalist for the PEN/Hemingway Award for Debut Fiction, winner of the California Book Award for First Fiction and the Northern California Book Award for Fiction, and O: The Oprah Magazine chose it as one of the ten best books of the year. DuBois was also named one of the National Book Foundation's 5 Under 35 authors. A graduate of the Iowa Writers' Workshop, duBois recently completed a Stegner Fellowship at Stanford University. Originally from Massachusetts, she now lives in Texas.
For more information on Jennifer and her work, visit her website, jenniferdubois.com.
Jennifer duBois's TLC Book Tours TOUR STOPS:
Tuesday, September 24th:  Literate Housewife 
Monday, September 30th:  Jenn's Bookshelves
Wednesday, October 2nd:  Kritter's Ramblings
Thursday, October 3rd:  The Scarlet Letter
Monday, October 7th:  Entomology of a Bookworm
Wednesday, October 9th:  She Treads Softly
Thursday, October 10th:  No More Grumpy Bookseller
Monday, October 14th:  River City Reading
Thursday, October 17th:  Sweet Southern Home
Monday, October 21st:  Bloggin' 'bout Books
Wednesday, October 23rd:  Wordsmithonia
Thursday, October 24th:  Book-a-licious Mama
Monday, October 28th:  Broken Teepee
Friday, November 1st:  Book Dilettante